Hello everyone, Darryl here with this week's gaming news! This is officially a no April Fools zone! Paizo adventure path coming to 5e, the release of the
Dragon Prince
RPG
Tales of Xadia
, a new Cortex Prime Community License, Free League releases
Death in Space
, and more!
For a quick summary of the week's news, Jessica Hancock will bring you up to speed with
This Week in TTRPG.
Don't forget, you can keep up with all the week's gaming news in detail with
Morrus' Unofficial Tabletop RPG Talk
! This week, Morrus, Peter, and Jessica talk about the newly announced
Dungeons & Dragons
adventure anthology,
Journeys Through the Radiant Citadel
!
In case you missed it elsewhere on EN World this week: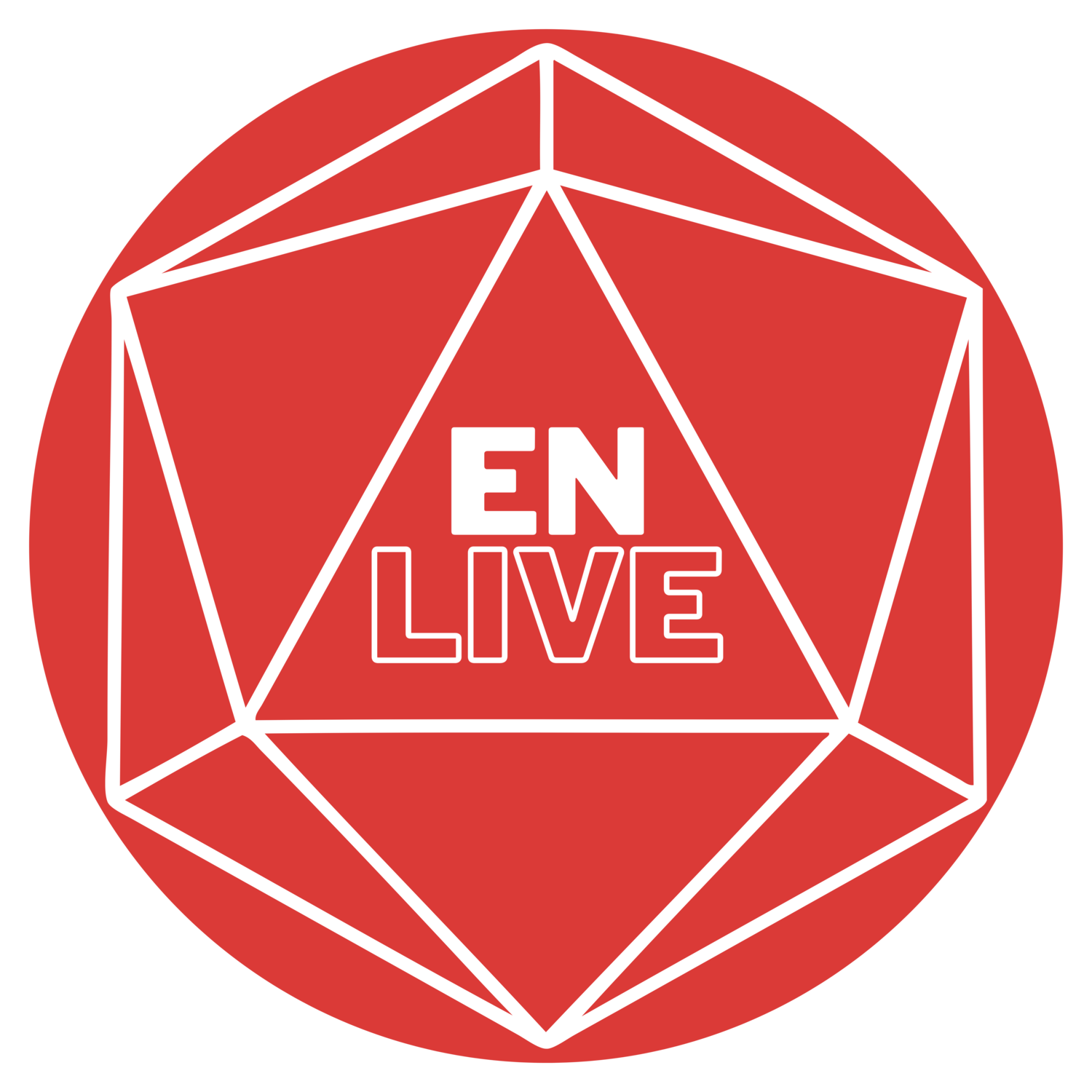 EN Live has launched not one, not two, but three new podcasts this week as we expand our multimedia offerings
. Many of you already subscribe to
the weekly news podcast Morrus' Unofficial Tabletop RPG Talk
which covers the week's news in detail plus our Guess the Kickstarter game, weekly sketch, and the topic of the week. Joining it will be audio-only archives of our live streams and videos so you have more options for how you enjoy all our content.
The short-form news program This Week in TTRPG
brings you up-to-date on the week's news in under three minutes.
Our talk show Not DND features a new guest each week
to talk about a different tabletop roleplaying game that's not D&D.
Finally, EN Live Actual Play features both one-shot sessions and extended eight-week campaigns of EN Publishing games
. You can find these podcasts from the links above or on your favorite podcatcher app,
and you can always catch the videos live by checking the EN Live schedule
.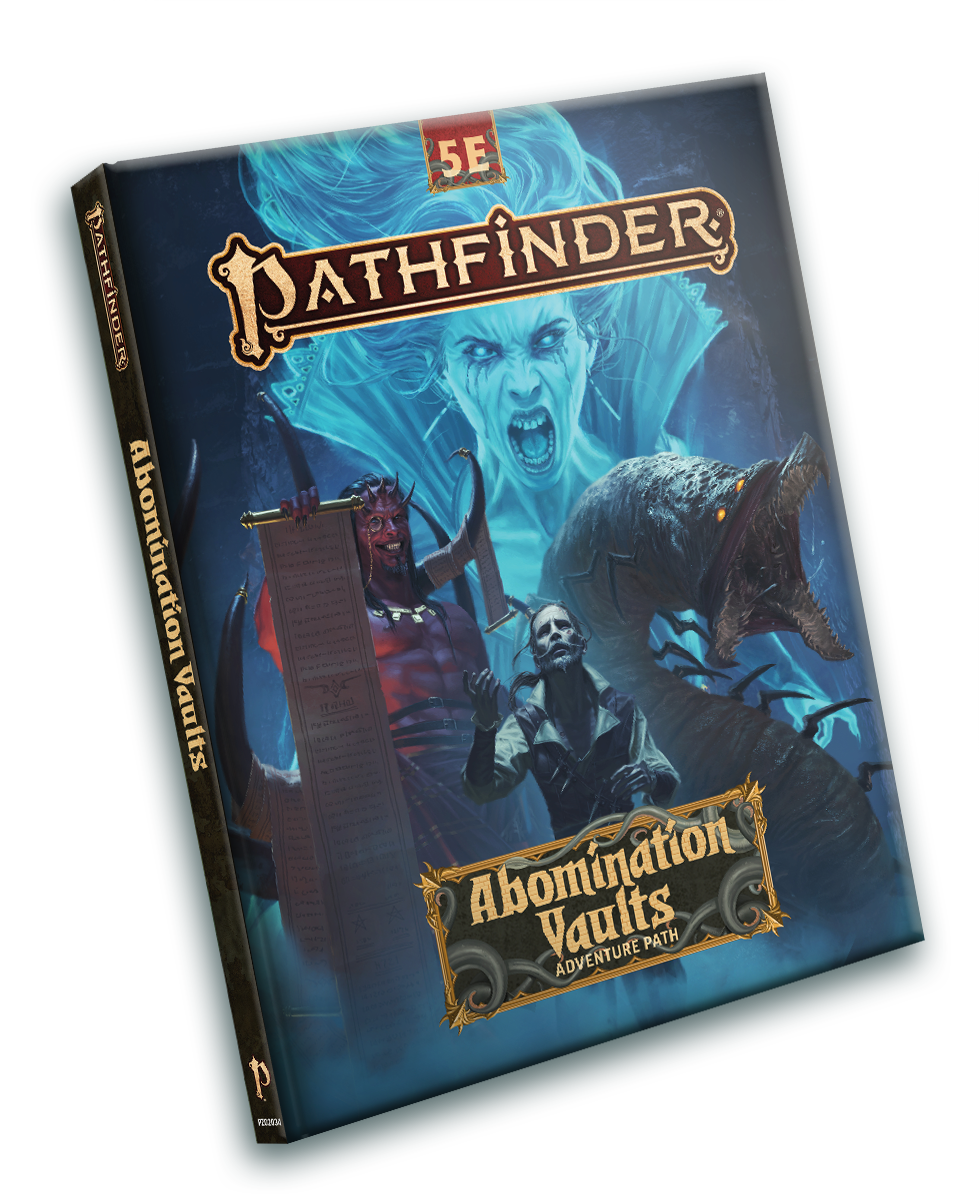 Paizo announced that the Pathfinder adventure path The Abomination Vaults will get two new hardcover releases for two different fantasy RPG rules systems
. The original version for
Pathfinder 2nd Edition
released in early 2021 in three softcover volumes and will now be collected into a single hardcover book. However, we're not just getting a new collection but also a brand-new conversion to 5e as well. From the 5e product description:
When the mysterious Gauntlight, an eerie landlocked lighthouse, glows with baleful light, the people of Otari know something terrible is beginning. Evil stirs in the depths of the Abomination Vaults, a sprawling dungeon where a wicked sorcerer attempted to raise an army of monsters hundreds of years ago. The town's newest heroes must venture into a sprawling dungeon filled with beasts and traps to prevent a spiteful spellcaster from rising again!

This complete compilation of the original Adventure Path campaign has been adapted to the newest version of the world's oldest RPG. You've heard about the quality and depth of Pathfinder campaigns for years—now explore the Abomination Vaults yourself without having to learn a new game system!
The Pathfinder 2nd edition hardcover will be available to mass market on May 10, 2022, for a retail price of $49.99
while the 5e version
is scheduled for an October/November release with a retail price of $59.99
.
Fandom announced that Tales of Xadia: The Dragon Prince RPG is now officially available for purchase
. Based on the Netflix animated series
The Dragon Prince
from
Avatar: The Last Airbender
head writer Aaron Ehasz and
Uncharted 3: Drake's Deception
director Justin Richmond,
Tales of Xadia
is the first
Cortex Prime
game released following Fandom's acquisition of the game system. From the announcement:
The Dragon Prince Roleplaying Game

Purchase Tales of Xadia: The Dragon Prince Roleplaying Game the official tabletop roleplaying game for The Dragon Prince. Using the award-winning Cortex system, you and your friends will take on the role of characters and play your part in adventures set in the Netflix show's world. Your purchase includes:

A physical and digital copy of Tales of Xadia: The Dragon Prince Roleplaying Game, so you can play anywhere
Everything you need to create your own characters and tell your own stories set in Xadia
New official canon, lore, creatures, and wonders to discover
Details on the countries and people that inhabit the world of The Dragon Prince
All-new art featuring your favorite characters and locations from the show
Digital character sheets, premade characters, and tools to easily start playing
Digital tools to help you play remotely with friends
The PDF is available for $24.99 while the hardcover and PDF bundled is available for $49.99
.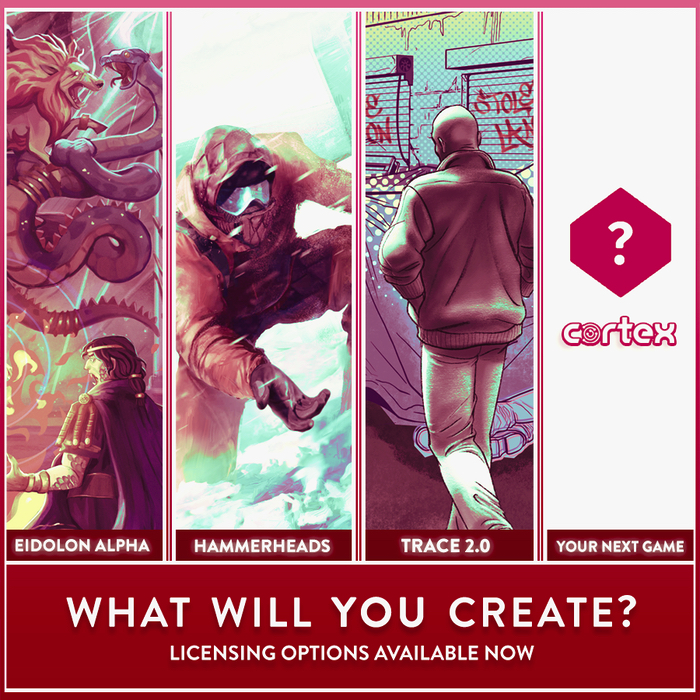 Speaking of Cortex Prime, Fandom released an updated version of their Community License for the system
. The original version of the license released in November 2021 faced criticism regarding the ownership of material created under the license. The new V 2.0 version of the license addresses these issues to create a license closer to the Open Gaming License. The license is still for non-commercial works, though there is an exception for "tip jars", pay-what-you-want, and Patreons so long as the content is available for free and not behind any paywalls. Under the license, the expression of rules created is also released under the same license unless specifically excluded similar to the OGL's "Product Identity".
The full legal text of the license is available here
, while a FAQ explaining
the terms of the license is available here
.
It's that time again as we have another TSR News Update.
TSR LLC aka TSR3.5 is back in the news after offering rebindings of classic Advanced Dungeons & Dragons books for sale via the Dungeon Hobby Shop Museum
. The books appear to be faux-leather bound copies of sourcebooks grouped into twos and threes including
Players Handbook, Dungeon Masters Guide, Monster Manual I & II, Deities & Demigods
, and others. The resell of legally purchased items including media is allowed under the US legal concept of First-Sale Doctrine, but for media it must be in the same format as originally sold – for example, a rebound copy of the original physical book is allowed but printing out a PDF or eBook sold in physical binding would not. About these books, NuTSR says:
"Look what just came in. Sorry, we didn't have these in for TSR CON. (in the beginning, WotC said similar to what people below are saying. We said they are rebound of old material. Long story short, WotC said ok no problem, we have it in writing)"​
TSR Con was the convention held this past weekend at the Dungeon Hobby Shop Museum in Lake Geneva, WI, unofficially alongside Gary Con XIV held at the Grand Geneva Resort. The Facebook account for TSR Con claimed an attendance of "800 people" despite the Dungeon Hobby Shop Museum having their Closed sign on for the duration of the event,
with Gary Con's Luke Gygax speculating the reason being that the DHSM failed a fire inspection on the Thursday before the convention
.
The lawsuit between TSR LLC and Wizards of the Coast along with WotC's countersuit against TSR LLC, Dungeon Hobby Shop Museum LLC, and Justin LaNasa (CEO of both)
continues with United States Magistrate Judge S. Kate Vaughan assigned to the case
, with both parties having until April 4 to object and request a District Judge hear the case instead.
And because I can't end a story about TSR3.5 with something as mundane as a routine court assignment and there is always more weirdness to be found, the Dungeon Hobby Shop Museum
posted to their Facebook page "Do any gamers like grits?" along with a photo of a bowl of grits with a slice of cheese
. During his attempt to run for the State House of Representatives of North Carolina in 2020, Justin LaNasa ran into controversy when a video surfaced of two female employees of LaNasa's tattoo shop wrestling in grits for a job promotion. For those outside the United States, grits are a form of porridge made from boiled cornmeal similar to polenta typically served as a breakfast side dish in the Southern US.
PJ Coffey released the first third-party book for Level Up: Advanced 5e, Homebrew and Hacking: Crafting Heritages and Cultures
. The 48-page book includes rules to help narrators, DMs, and game designers create their own heritages and cultures for EN Publishing's
Level Up: Advanced 5e
as well as the original 5e rules system. The drag-and-drop system also allows to create mixed heritages including combinations like half-dwarf, half-centaur (as in that's one heritage, no more assumption that the other "half" must be human). The PDF is available for $10.80, or you can pick up the softcover in POD standard color for $15.68 or premium color for $19.60.
Free League announced pre-orders for Death in Space, a new science fiction survival game from Christian Plogfors and Carl Niblaeus
. Players take on the roles of miners, salvagers, drillers, and other workers facing the void of space where resources are scarce and competition is fierce for the next big score. The game uses an original lightweight system and features rules to create player characters and their spacecrafts and space stations, the frontier star system Tenebris, a system for repairs and crafting, 20 cosmic mutations representing physical manifestations of the void, and 40+ tables and generators for creating adventures. The hardcover is available for 298.00 kr (about $31.71) for an expected May delivery with the PDF included immediately.
The tabletop game crowdfunding site Gamefound is now officially open to all creators
. The Kickstarter competitor originally had an invitation-only process but will now open crowdfunding campaigns for any tabletop game or tabletop gaming accessory. From the "About crowdfunding launch" section of the announcement:
If you run your campaign on Gamefound, your project will have three stages: preview/draft, crowdfunding, and pledge manager. Each stage has a separate setup and settings while keeping everything you've created in the previous stage. This means you can use the same elements or change them depending on your needs (e.g., rewards, images, prices).

As we already mentioned, the process of draft creation is automated, and you don't have to contact us to publish a preview page of your project. All you need to do is fill in the required data and have it verified. Before you launch crowdfunding, we need to verify your project more carefully. This is when you need to set up many elements, and each has to be checked by our staff. We want all projects that use Gamefound to succeed. That's why we may send feedback and suggestions to your campaign. Only after your campaign is almost ready can you set up the timer for launch, but not sooner than 7 days after successful verification.

Our approach to pledge manager stays the same. It's free, and you can use it independently and import your campaign from an external platform or use it in the draft + crowdfunding + pledge manager package. We require a 30-day break before opening the pledge manager to set up shipping and get ready for order fulfillment.
More information about the service
can be found at the official announcement of the open beta launch of the site
and fee schedules
can be found on the Become a Creator page
. Gamefound was created by Awaken Games in 2015 and received a $4.5 million investment from
Castles of Burgundy
publisher Ravensburger to expand their operations.
Applications open next week for Gen Con Participation Grants available to members of historically underrepresented communities
. Application submissions open from April 4 and continue through May 15 with an optional audio or video interview in June. Those selected to receive the grant will receive complimentary 4-day passes to Gen Con 2022 and a stipend between $450 to $1500 for lodging, transportation, and other expenses. From the website:
Eligibility for Participation Grants includes being an active member of a tabletop gaming community and/or involved in gamer-adjacent/geek-culture communities that would benefit or learn from your participation at Gen Con Indy.

Examples of gaming or gaming-adjacent communities broadly include (but are not limited to):

Activities at your local game store
Business interest: Aspiring game designer, publisher, game store owner, or other industry aspirant
Social media reach, active streamer, TikTok, Twitch
Gaming group (online or offline): local, school, place of worship, club, community center, etc.
Other groups: Cosplay, video games, LARPs, etc.

Black, Indigenous, and other people of color are strongly encouraged to apply.
Applicants will be notified of the status of their grant application in June. Gen Con will take place in Indianapolis, IN, from August 4-7, 2022.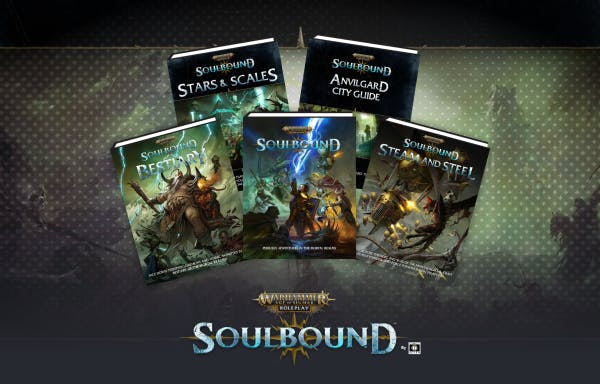 It's the final day for the Humble and Pathfinder 1st Edition Character Options bundle from Paizo
featuring a full library of 40
Pathfinder
books in digital format plus a hardcover of the
Inner Sea World Guide
for just $35. This bundle benefits the National Coalition Against Censorship and runs until Saturday, April 2.
There's also less than a week left for the original Traveller book bundle with over 40 digital books for the classic sci-fi RPG
. This bundle benefits the Navy-Marine Corps Relief Society and runs until Thursday, April 7.
Cubicle 7 has partnered with Humble Bundle for the Warhammer: Age of Sigmar: Soulbound Bundle
featuring a total of 24 books with everything you need to get started with
Soulbound
. This bundle benefits Children's Health Ireland and runs until Thursday, April 14.
That's all from me for this week! Don't forget
to support our Patreon
to bring you more gaming news content. If you have any news to submit, email us at
news@enpublishingrpg.com
, and you can get
more discussion of the week's news on Morrus' Unofficial Tabletop RPG Talk
every week. You can
follow me on Twitch to get notifications when I go live,
subscribe to Gamer's Tavern on YouTube for videos on gaming history, RPG reviews, and gaming Let's Plays
, or you can listen to
the archives of the Gamer's Tavern podcast
. Until next time, may all your hits be crits!
Note: Links to Amazon, Humble Store, Humble Bundle, and/or DriveThru may contain affiliate links with the proceeds going to the author of this column.