Hello everyone, Darryl here with this week's gaming news! Hasbro says D&D and M:TG holding strong despite downturn, new release for
Star Trek Adventures
, new miniature line for
Vampire: The Masquerade
, and a lot more!

Hasbro released their quarterly financial report and, according to ICv2, Hasbro Gaming is down 17% but Dungeons & Dragons and Magic: The Gathering are still holding strong in sales
. Hasbro cited the impending tariffs on Chinese imports as a major factor in the sales slowdown as many distributors canceled direct import orders out of fear of the tariffs being implemented, even though they've been delayed until December 15. This reduced the amount of board games on the shelves, which thus reduced sales. However, CEO Brian Goldner cited Wizards of the Coast as still strong (WotC is not considered part of "Hasbro Gaming" as it is a separate subsidiary), and stated expectations for sales to double over the next five years for physical products. The digital division particularly came up as part of their future with "close to a dozen" video games in development over the next five to six years. However, this wasn't much comfort to shareholders as Hasbro stock fell over 16% on Tuesday and has been on a slow downward trend on the following days.
Modiphius released Strange New Worlds, the newest book for Star Trek Adventures
. The book features nine new adventures for all three supported time periods – Enterprise, Original Series, and Next Generation/DS9/Voyager. The nine adventures all have unique set-ups from investigating a suddenly-silent research facility on the Cardassian DMZ to finding out what renegade Ferengi are doing on a planet with a sentient ocean to exploring an ancient doomsday seed vault on a barren, icy world.
The PDF is available from DriveThruRPG now for $19.99
, and the hardcover will arrive in stores next month with a retail price of $39.99.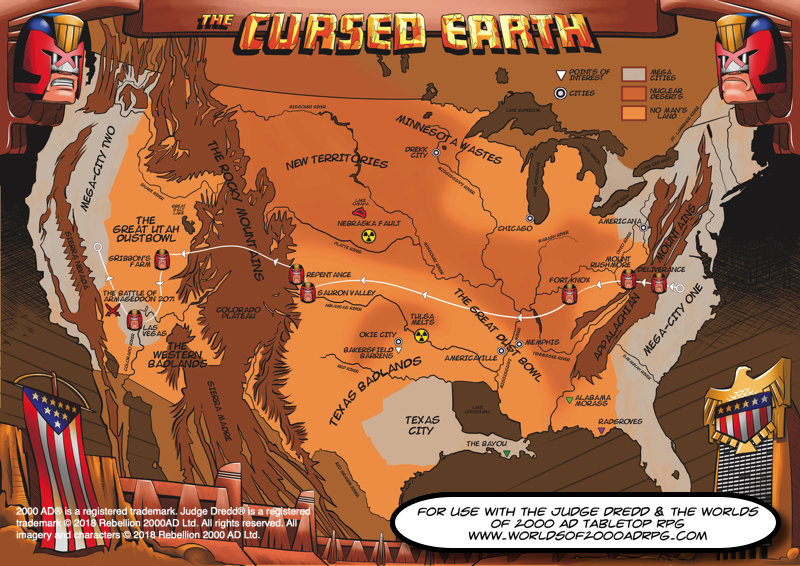 EN Publishing posted a preview of the next Judge Dredd and the Worlds of 2000AD combination sourcebook and adventure, The Cursed Earth
. The preview? A high-resolution map of the Cursed Earth and the North American continent. In fact, according to Morrus, this is the highest resolution map that's ever been produced as other available maps tend to be small within the comics themselves and partially obscured by dialogue or characters. And he made that claim on the internet last week and no one's corrected him yet, so you know it's probably true. While most people are curious about why Mount Rushmore is in the wrong place (the Judges moved it to protect it), I'm personally curious how Lake Louisiana works since that's near the area I live in and the Mississippi River doesn't work in a way that would allow that to happen. Anyway,
The Cursed Earth
will be available Winter 2019 and
pre-orders open on the EN Publishing webstore
.
Disclosure: EN Publishing is the game publishing arm of ENWorld.
​
EN World has two new columns as part of its ongoing collection of columns on the history of the tabletop roleplaying industry.
Rob Kuntz posted a brief glimpse into the days before there was a real "Dungeons & Dragons" with several memories of the Lake Geneva Tactical Studies Association
. If you've ever been curious what James Ward, Jeff Perren, Ernie Gygax, Dave Arneson, and the others there at the foundation of the hobby were like at the table, it's a very interesting read.
Meanwhile, Owen K.C. Stephens started his new column discussing his history with the industry and how he broke into the industry as a freelancer with an elven name generator for Dragon Magazine
.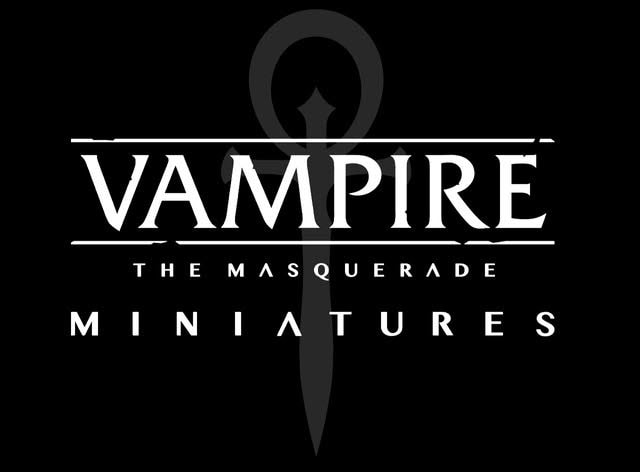 Modiphius announced a new line of miniatures based on Vampire: The Masquerade
. The 32mm resin miniatures will be based on iconic characters as well as more generic miniatures for different clans, sects, and antagonists. This is the first miniature line for
Vampire: The Masquerade
since the 1990s Ral Partha line, which isn't surprising as tactical combat isn't typically associated with the World of Darkness game. The release will launch with "three to four" figure sets with a release scheduled for Spring 2020 based around "Bloodlines, the Anarch, Camarilla, Sabbat, generic clans, the Second Inquisition, bystanders, and plenty of antagonists".

EN World's been busy this week with a lot of analysis of the industry. In case you missed anything this past week:
Andrew Peregrine discusses the changing landscape of licensing in roleplaying games between Carnival Row and Wendy's
.
Mike Myler's collection of stat blocks for mythological figures adds the Ottoman admiral Hayreddin Barbarossa
.
The Game Manufacturer's Association launched a new trade magazine for game publishers and retailers, Around the Table
.
A first impression from Beth Rimmels of the re-released single-volume version of Dungeons & Dragons 5th Edition's first adventure, The Tyrrany of Dragons
.
Michael Tresca talks about a Delta Green campaign that went wrong to discuss player expectations and the unspoken social contract of roleplaying games
.
En5ider #297 adds a bit of grisly fun to your 5e games just in time for the Halloween season with "Monster Salvaging", an article on how the party can harvest valuable reagents, ingredients, and…well, bits and pieces from the monsters they slay to create potions and other magic items
.
TRAILSeeker has a new adventure for Pathfinder 2nd Edition, "The Guardian Murderer" about a flesh golem who gains sentience following the murder of its creator's rival, a short adventure for 5th level characters also perfect for the Halloween season
.
Morrus' Unofficial Tabletop RPG Talk Episode 71 has Morrus and Peter (joined by Hudson, the enthusiastic and rather vocal puppy) to discuss the news of the week plus take a spoiler-free look at Baldur's Gate: Descent Into Avernus
.
Egg Embry has an interview with Mike Myler about Vast Kaviya, currently crowdfunding on Game On Tabletop
.
A free random dungeon generator by "watabou" allows you with one click to create a small dungeon map complete with interesting features.
Sean Hillman takes a look at a DM's Guild solo adventure with a review of To Hell & Back Again by designers Keinna Shaw and Donathan Frye
.
Egg Embry has all the roleplaying game and related crowdfunding projects ending soon with the weekly RPG Crowdfunding News column
.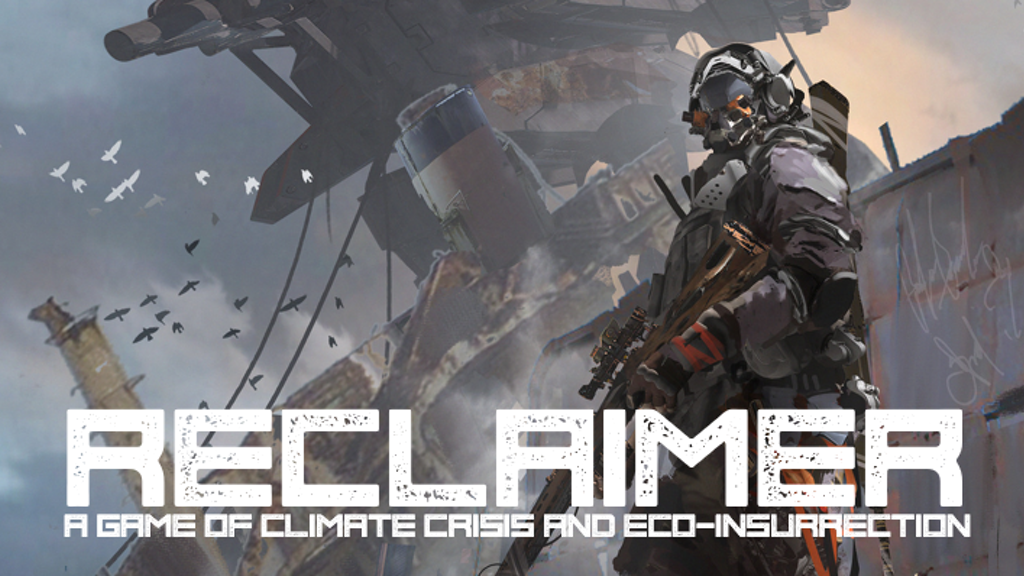 Speaking of crowdfunding news,
the most recent crowdfunding effort by Chad Walker for Reclaimer hit a legal snag and had to be canceled
. Walker, whose last project was
the cyberpunk (emphasis on the "punk") superhero game SIGMATA: This Signal Kills Fascists
, canceled the project even though it was almost double its funding goal due to a rights issue with the art. A freelance artist hired to create characters for the game used an image from a photographer without the proper rights clearance, then modified the image to create "original" art for the game. This isn't the first time a small developer has run into issues over art rights due to misunderstandings about how things like Fair Use work within copyright law, and it can become a pitfall for developers and publishers of any size as the freelancer in question had a long resume of game and character design work within the tabletop and video game industries. Though Walker was unaware of the issue and was not directly responsible for the art theft, he made the difficult choice to cancel the campaign until all the art could be properly cleared rather than attempt to make excuses or deflect until the Kickstarter ended. In the cancellation message posted to Kickstarter, Walker stated, "We meant no harm, but we still did harm, and we are sorry for that. Please learn from our mistakes. We will be back in 2020, and on much surer footing."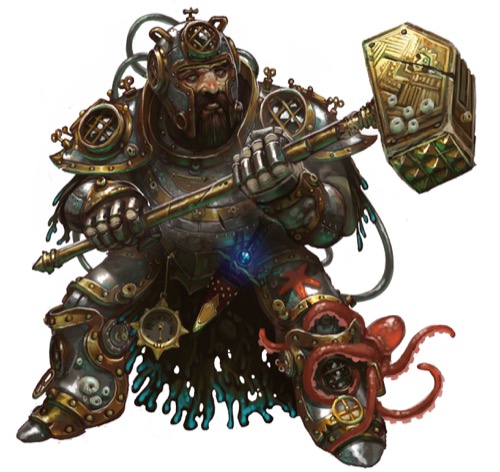 Even though the Lost Omens Character Guide is already on store shelves, that hasn't stopped Paizo from releasing one final preview with a look at some of the NPCs in the book
. There are stat blocks a Hellknight Centaur, the Whispering Way Medusa, and Firebrand Ancient Brass Dragon. Additionally, the preview shows us one of the faction templates to customize monsters and NPCs already published to make them more unique and in line with their organization. The example is for the Bellflower Network, an organization devoted to freeing slaves. The table gives traits, skills, spells, and other abilities across all 20 levels to make the stats match the motivations and actions of the organization, in this case adding abilities to help deceive, escape, and move quickly.
The Lost Omens Character Guide is available now with a retail price of $34.99
.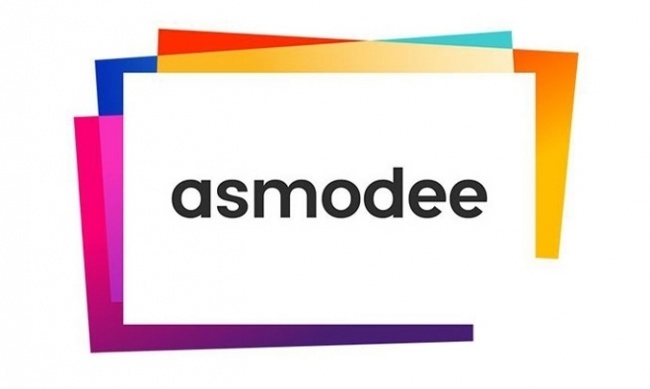 There have been several acquisitions behind the scenes in the game industry this past week. Asmodee acquired yet another board game company,
this time French game publisher Lui-meme, the publishers of Skull and Werewolves of Miller's Hollow
. Meanwhile,
publishing group Hachette Livre entered exclusive negotiations to acquire majority stake in Blackrock Games
, a French distributor who, according to ICv2, distributes "the products of some 30 publishers offering 90 new releases a year and 400 backlist products." Finally,
Cards Against Humanity announced they are open a physical location in Chicago, the Chicago Board Game Café in Logan Square
. The café will feature a full dinner menu and bar along with their game library housed in an actual converted bank vault and two full escape rooms built by The House Theatre of Chicago.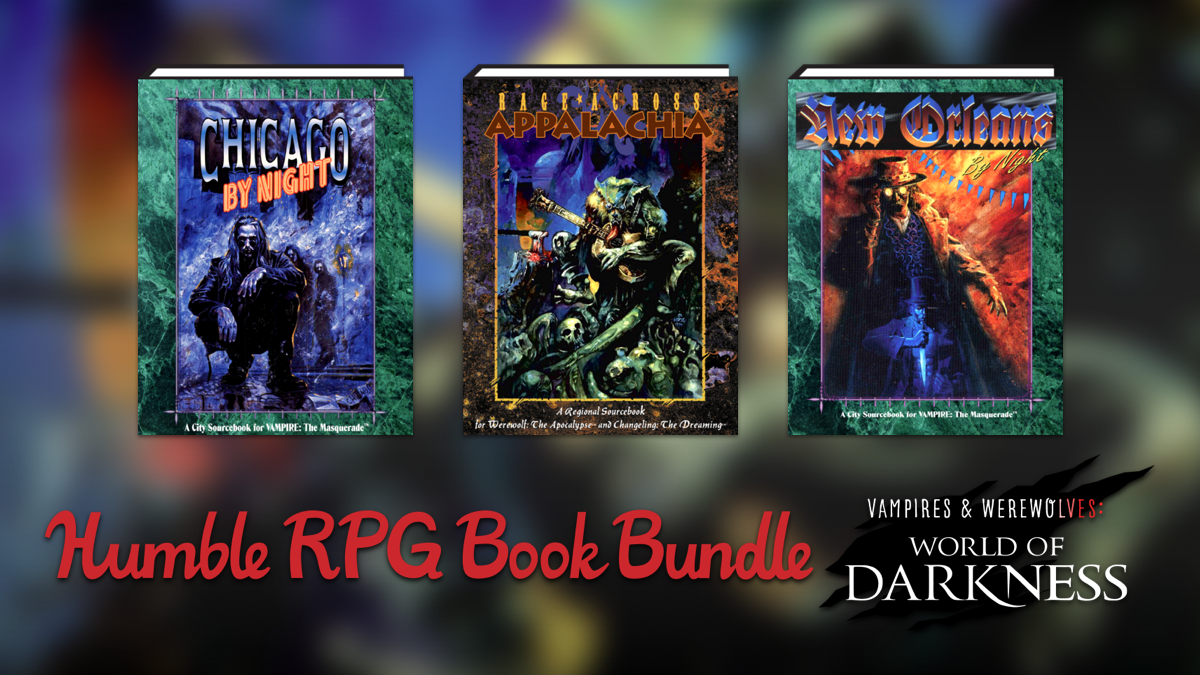 Humble currently has two huge bundles of roleplaying game books.
The Warhammer 40,000 Rogue Trader bundle features a complete library for Rogue Trader
with even the $1 level including the core rulebook, two adventures, and a sourcebook with new character options and the full $18 level including 27 DRM-free PDFs for the
Rogue Trader
roleplaying game.
The Vampires & Werewolves: A World of Darkness bundle is still available, featuring location books for the World of Darkness for Vampire: The Masquerade, Werewolf: The Apocalypse, Changeling: The Dreaming, and more
. The
Rogue Trader
bundle is available until Wednesday, November 13, while the
World of Darkness
bundle is available until Wednesday, November 6.

It's the final week for Chris Spivey's weird west roleplaying game, Haunted West
. The ENnie-award winning creator of
Harlem Unbound
is back with a game set in the wild west and has once again assembled an amazing team of creators to bring voices to the forgotten stories of the American West. The game itself is designed to let you play the game you want, from a realistic straightforward Western to a full-out Mythos-inspired weird west campaign of fantasy-slash-spaghetti-western. The PDF is available for a $20 pledge and the hardcover available for $55 with levels at $40 for PDF and $75 for hardcover to include all of the digital stretch goals unlocked during the campaign. This project is fully funded and runs until Friday, November 1.
There are three reasons why I personally don't own a lot of large-scale miniature terrain even though I've got several sets of different styles of tiles and other smaller accessories – Cost, size, and my inability to paint.
Well, Folding Terrain by Mad Bob Miniatures solves all three problems with reasonably-priced scale terrain
of cottages, manor houses, and castle ruins that are available unpainted or pre-painted and they easily disassemble to store flat. There are multiple pledge levels based on the size of the buildings ranging from £8 (about US$11) for the smallest cottages to £40 (about US$52) for a massive mansion with more options and several bundles available. This project is fully funded and runs until Thursday, October 31.
I'm not sure if this game is based off a long-running joke popular among friends of mine ("Are you really a Goth if you haven't sacked Rome?") or if it's just that common of a concept, but
Visigoths vs Mall Goths is a tongue-in-cheek game drawing as much inspiration from Dragon Age and Skyrim as it does Clueless and Bill and Ted's Excellent Adventure
. Players take on the roles of three different types of Visigoth (Conqueror, Charlatan, or Runecaster) or three types of Mall Goth (Theatre Tech, Witch, or Cyber Pet) in an open world mall setting perfect for investigating rumors, intellectual debates, flirting, or a straight-up battle in the food court. The game also promises "a lot of bisexuals". The PDF is available for $12, the softcover printed version for $20, and a hardcover for 25. This project is fully funded and runs until Thursday, October 31.
That's all from me for this week! Don't forget
to support our Patreon
to bring you more gaming news content. If you have any news to submit, email us at
news@enworldnews.com
, and you can get
more discussion of the week's news on Morrus' Unofficial Tabletop RPG Talk
every week. You can
follow me on Twitch where I'll be streaming The Outer Worlds (Probably a lot. Like a lot a lot. The game looks so good),
subscribe to Gamer's Tavern on YouTube for videos on gaming history, RPG reviews, and gaming Let's Plays
, or you can listen to
the archives of the Gamer's Tavern podcast
. Until next time, may all your hits be crits!
Note: Links to Amazon, Humble Store, Humble Bundle, and/or DriveThru may contain affiliate links with the proceeds going to the author of this column.