My inbox just exploded! It looks like Penguin Random House accidentally leaked an upcoming book listing for D&D, before removing the entry. It's dated for May 19th, and it's called
Mythic Odysseys of Theros
.
What's Theros? It's a Greek(ish) themed
Magic: the Gathering
world! This will make it the second, after
Ravnica,
to make it to an official D&D campaign setting. Here's what the
MTG wiki
says about it:
"Theros is a plane governed by the gods of Nyx, where heroes face monsters, the sea rages, people offer burnt offerings and adventures take place. It is defined by mankind's struggle against the primal forces of the world, and mankind's conflict with the many other sapient races that populate the world."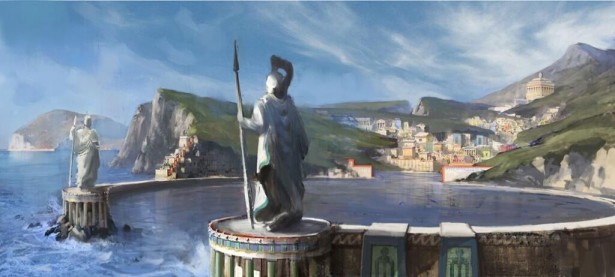 In ancient times, the archons of Theros held a massive empire, tyrannizing the world in the belief that they were imposing a strict justice. The most notable of these Archon tyrants was Agnomakhos, who used the leonin as an army. Eventually, the Archon empire fell, being instead replaced by the poleis, and the remaining Archons now lash at these, slighting the "honor" they feel was stripped from them.
There's an enormous list of races, too -- though how many of those will translate from MtG to D&D, I don't know. Some of these are clearly 'monsters' in the D&D sense rather than 'races'. It includes cats, centaurs, gorgons, merfolk, minotaurs, satyrs, spirits, zombies, archons, basilisks, chimeras, cyclopses, demons, dragons, giants, hags, harpies, hounds, hydras, krakens, lamias, manticores, pegasi, phoenixes, spines, and sirens.
There's a whole bunch of Greek-themed or inspired D&D settings, including:
Of course, this all assumes this isn't come kind of epic troll on WotC's part -- they have
recently started putting placeholder names on products on Amazon
and then changing them at the most minute,
although with limited success
. This could be a more elaborate attempt at that!