Here are the entries for the
Pumpkin Pie Spice RPG Contest
! Links to the original article are below, and I've quoted the entries themselves in the first post of this thread...so there are two ways for you to review them for yourselves before voting.
All EN World members are invited to take a look, and vote for up to three!
List of Entries
"
Create Pumpkin Pie Spice - Pie
," by GreyLord, a new spell for 5E D&D that delivers fresh pie to your door!
"
Pumpkin Slice
," by Ralif Redhammer, a new jack o'lantern themed weapon for Cyberpunk Red
"
Cursed Pumpkin Pie Spice
," by Old_Skool, a cursed (and delicious!) magic item for B/X D&D
"
PUMPKINHEAD
," by Whizbang Dustyboots, a pumpkin-themed slasher for Shadowdark
"
Pumpkin Spice Season
," by Gradine, a one-page RPG about teenage girls, pumpkin pie spice lattes, and joy (custom RPG).
"
The Spice Must Flow
," by Snarf Zagyg, a one-page RPG about luchadores, pumpkin pie spice, and the sanctity of horchata (custom RPG).
"
Farmer Kemp's Pumpkin Harvest
" by CleverNickName, a set of four custom pumpkin-themed minis for your game (system neutral).
"
Engelbert Murgatroyd, aka The Ghost of Harvest
" by GMMichael, a cinnamon-and-nutmeg scented NPC/monster for the Modos2 rule set.
"
Magnificent Pumpkin Spice Cafe
" by Cadence, a 7th level Conjuration spell for 5E for all your extradimensional coffee needs.
"
Pumpkin Spice Golem
" by Deset Gled, a delicious CR 3 monster for 5E D&D. In Tall, Venti, and Grande!
"
A Pie to Die For
," by
@For Valor
, an adventure for 3rd Level characters (5E D&D)
Voting
Polls are now open, and they'll stay open for 2 weeks. Everyone on EN World is invited to cast a vote.
Select up to three from the list of entries. Vote for any reasons you like: most original, most creative, best use of the theme ("pumpkin," "pie," and/or "spice"), most likely to use in your home game, you can use whatever criteria you wish. You can even vote for your own entry if you think it's worthy, nobody can stop you.
The entry with the most votes wins! Any ties will be decided by the clock: the entry that was submitted first will win the tie.
Winning and Prizes
There are four prizes to be won:
The entry who gets the most votes will get first pick from the prize pool. The entry with the second-most votes will get second pick, the entry with the third-most votes will get the third pick, and so on, until all of the prizes are claimed.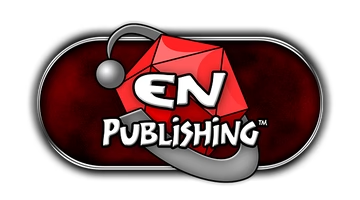 Thanks to Our Contestants
Special thanks to
@GreyLord
,
@Ralif Redhammer
,
@Old_Skool
,
@Whizbang Dustyboots
,
@Gradine
,
@Snarf Zagyg
,
@GMMichael
,
@Cadence
,
@Deset Gled
, and
@For Valor
for putting their work out there for everyone to enjoy. And for giving me something else to fixate on here at EN World that wasn't another argument or edition war.
Last edited: