Creator of The Untamed Wilds
OOC:
This uses the TUW 2e gaming system completed in 2013. The first edition was printed in 1988.
The online character records are found in the following thread:The Untamed Wilds Editable Character Records.
Having any questions or comments about the scenario or the system feel free to PM me.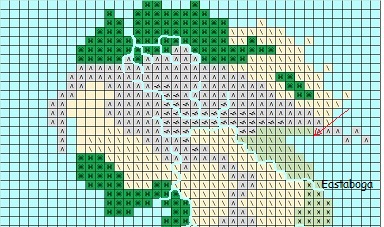 | | |
| --- | --- |
| OOC: | The red arrow marks the starting point. |
Nalvis stamps the last bit of dirt into place over the grave of his adopted father. He pauses to take a deep breath, angry. He is not particularly tired from his labor with the whale bone shovel, for the ground her is soft, becoming marshy farther to the west. Abrine paces back and forth along the beach, staring out at the sea as if she could command it to give her its secret. Mekric pokes about the humble dwelling looking for any real sign as to the identity of the raiders who had perpetrated such a monstrosity.
Mekric runs what she knows through her head. There is a fishing village farther eastward out into the spires and crags that dot out into the sea, but the strangely painted and pale people only look violent. They have often come to the hut to trade fish for the fresh vegetables. Farther inland where the hills rise out of the marsh are several villages, most inhabited by the same people that populate the only know city almost due south across the sea, Eastaboga.
Seventeen years she has lived here with her adopted family and nothing even remotely violent has occurred. She is rarely confused, but this dilemma has her stumped. She is shaken from her thoughts by her brother's voice calling that three people are approaching on foot from inland to the north.
The giant of a man gives greeting, but it lacks any joy as does his face and the faces of his twin sister and the frail Faethrin following with him. The three look as if they are carrying everything that they own, having walked from the Norikadian fishing village farther out in the craps, rather than arriving by the usual boat. The six people recognize each other, but have never before spent much time together, never before having had a reason.
After some discussion, it is learned that the tiny Norikadian fishing village had also been sacked. Rekyavik, Renyaveer, and Quill had been out hunting mountain goats when it occurred. They only know that whoever committed the act must have arrived by sea, as no force passed the three on the goat trails in the mountains.
Last edited: