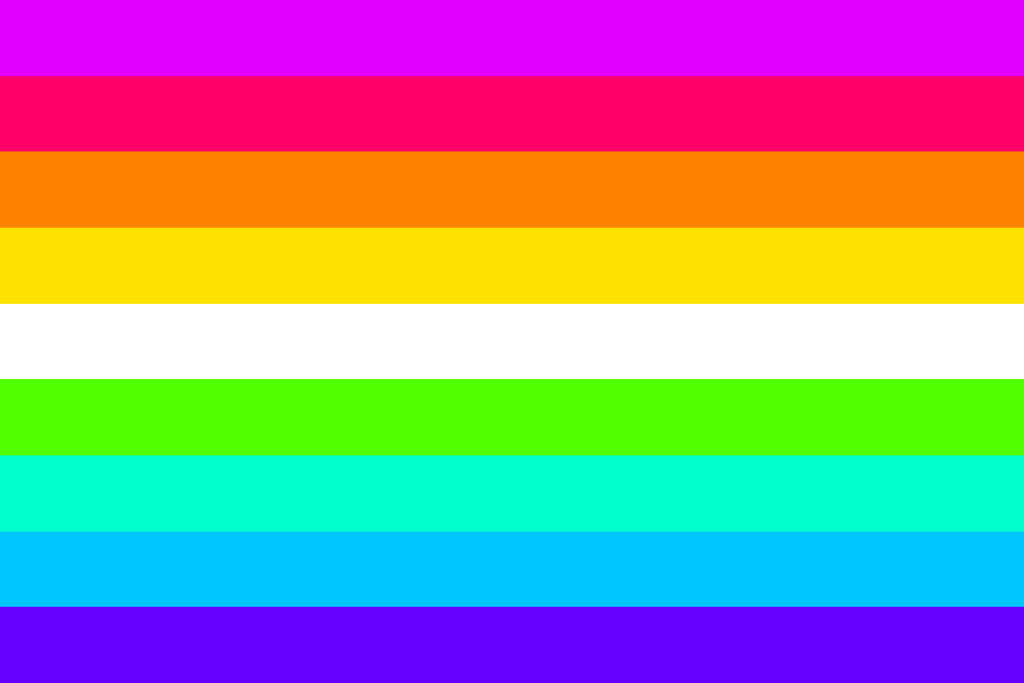 Elven Pride Flag (Yaarel 2022)
I am creating an elven Pride Flag for my D&D setting. In it, the feywild elves (especially eladrin) celebrate an annual sacred revelry: the Revelry.
A bit like Star Trek vulcans, the fey elven court cultures tend to spend the entire year obsessively pursuing magic − research, spells, rituals, items − and searching and innovating new theoretical and practical magical applications. But once a year, these fey elves overflow into romance and wild partying. The mood of the Revelry is a bit like US Valentines Day, Brazil Mardi Gras, Scotland Edinburgh Tattoo, and Israel Purim − rolling into one megacelebration. The Revelry lasts 15 days, from the new moon to the full moon. All of the various local and regional elf courts gather from the far reaches of the multiverse to join in the fun − and celebrants from other races join in as well.
During the Revelry, Bards and Druids use illusions and elemental magic for spectacular magical cinema entertainment, including hologram conjurations, animate elementals, and first-person virtual-reality experiences. Wizards duel to the death as a sporting event, where the vanquished resurrects after the duel. Other kinds of events pervade the celebrations. Adults can enjoy various magical intoxicants, and potions in the form of superhumanly gorgeous foods. The eladrin also utilize this sacred gathering for massive, collective, epic level, world altering, rituals.
But mostly, the Revelry is for romance.
The various community events are for participants to show off their prowesses to attract their prospective mates.
Culturally, the Revelry is when the fey elves conceive children. Despite being fey − thus ethereal − spirits, these elves can birth children "naturally" via pregnancy, or magically such as bringing a statue to life. Because of magic, it is also possible for a group of elves to become the "biological" parents of a single child, and all share in the parental responsibilities as the child matures. All conceptions involve some means of exchanging a drop of elven blood from each parent. The resulting parental bonds are instinctive and fierce. It takes about 20 years for an elf child to reach full adulthood − physically and emotionally − but thereafter the elf remains eternally youthful. Even so, elven cultures dont recognize the "adulthood" that comes from diverse experiences until an elf reaches the real age of 100 years. Then there is a kind of initiation rite of passage into adulthood, traditionally during the Revelry of the hundredth year. Elven parents are normally one or more centuries in age. The elves often make the pilgrimages to the Revelry as a family traveling together among the other families from their own particular court or other community.
There are no gods per-se in this setting. However Corellon is an ancient epic level elf. Various elven communities who descend from them view them as somehow both ones own deeply loved grandparent and ones own rebellious teenager. Originating from their personal − now cultural − values of Corellon, the nonbinary identities enjoy a culturally celebrated status. It is an example of the community a whole being holy.
The Revelry romances can involve any combinations of individual identities. Moreover, magic empowers any adult individuals to sire a child together.
For my setting, I find it fun for the various prospective mates to have a way to identify oneself as well as the prospective mate that one is seeking, during the Revelry.
Accordingly, this Pride Flag for the elven romances represents the diverse identities of all of the participants of the Revelry. Moreover, each color of the elven Pride Flag has a specific meaning, whose combinations of colors can function like a coat-of-arms to identify an individual. The combinations can represent oneself, or who one is seeking.
The flag has nine colors.
• The three reddish colors (purple, crimson, and orange) represent Woman.
• The three yellowish colors (yellow, white, and green) represent Nonbinary.
• The three bluish colors (aqua, sky, and indigo) represent Man.
Specifically, each triad distinguishes into anatomical body, psychological gender, and community fellowship.
• The crimson is the community of Woman, and its members tend to correlate the pronoun "she".
• The white is the community of Nonbinary, and its members tend to correlate the pronoun "they".
• The sky is the community of Man, and its members tend to correlate the pronoun "he".
Most elven individuals self-identify with one of these three identity communities via their anatomy and-or their gender. But some identify with more than one or none.
Note, during the year the elven cultures are typically strictly egalitarian. Individuals focus on the pursuit of magic. During the Revelry especially these colors adorn the joyous celebrations of identities and love.
The Woman community (crimson) includes individuals who associate their own female anatomy (purple) with ones womanhood, as well as individuals who associate their own feminine gender (orange) with ones womanhood.
Importantly, an individual can self-identify with the colors orange-aqua-crimson as a feminine-male-woman. An other individual elf woman can identify with orange-purple-yellow-aqua-crimson, being a woman who maintains a prominent femininity (orange) while her anatomy shapeshifts between female (purple), intesex (yellow), and male (aqua). An other elf woman might self-identify with the colors orange-yellow-crimson, a feminine intersex woman. Alternatively, many other identify permutations of woman are possible.
Generally the womanly colors use the colors purple-crimson-orange, but normally add a field of white to include the other, infinite, possibilities that are difficult to fit inside a color scheme of identities.
The Nonbinary community (white) includes individuals who associate their intersex anatomy (yellow) with their nonbinaryhood, as well as individuals who associate their genderqueer gender (green) with their nonbinaryhood. Genderqueer is an umbrella term that includes bigender (simultaneously both-feminine-and-masculine), thirdgender (a distinctive gender that is neither-masculine-nor-feminine), agender (sometimes referred to as gender-blind, finding gender itself personally meaningless), and genderfluid (shifting between two or more gender possibilities including, masculine, feminine, one of the genderqueer genders, or other.
In some cases, the intersex color, yellow, might in the context seeking out a mate or signifying ones own personal anatomical shapeshifing fluidity, refer to anatomy-blind. Compare a pansexual community, who form relations regardless of whatever ones anatomy may be.
Some yellow anatomical intersex Nonbinary members may still feel a strong sense of personal gender. Likewise, some green genderqueer Nonbinary members may still feel a strong sense of anatomical bodily self-identify.
The white color represents the Nonbinary community. This white color also does double-duty to represent innocence and a transcendence that exists beyond any opposites. White can include the infinite possible identities of all humanity − or rather the endless potential of elven identities.
The Nonbinary colors of yellow-white-green are inherently inclusive. These colors associate with Corellon personally, a fluid shapeshifter. Likewise, elven cultures often use yellow-white-green as the sacred colors for their elven court systems of self-government.
The Nonbinary community tends to include individuals who self-identify via their intersex anatomy and-or their genderqueer gender. But any permutation of combinations are possible within the Nonbinary community. Moreover, white can add to other color combinations to signify the presence of any unique individuals who might not self-identify with any of the nine culturally prominent identities.
Because magic can permanently shapechange a body, the elves can have whatever anatomy they want to be ones "true form". Nevertheless, besides fluid explorations, elves rarely choose a true anatomy that differs from ones birth. The elven cultures appreciate and strongly encourage the infinite possibilities of unique individuals. One notable exception is, individuals who − as a culturally sacred institution − adopt their grandparent Corellon as a household head of ones new adopted family. There is no requirement, but many individuals of the House of Corellon voluntarily adopt a permanent intersex "true form".
The Man community (sky) includes individuals who self-identify with manhood via their male anatomy (aqua) and-or their masculine gender (indigo). But any permutations of identity are also possible within the manhood. For example, an individual can display the colors indigo-purple-sky, when self-idenfying as a masculine-female-man. Likewise, the orange-aqua-sky colors for a feminine-male-man can self-identify with the Man community. And any permutations are possible.
Generally, the manly colors are aqua-sky-indigo-plus-white.
Sometimes an individual adds the colors of black for romantic-only (asexual) and-or of gray for sexual-only (aromantic). Combining black-and-gray represents no bonding, neither romantically nor sexually, but one can still form close relationships with friends and colleagues, of course. The black-and-gray individuals usually also self-identify with the anatomy, gender, and-or community of one or more of the nine colors in the elven Pride Flag.
The colors of celestial love (angelic, platonic) are simply white Nonbinary with black Romantic. As noted earlier, the sacred colors of the elven government courts are the Nonbinary yellow-white-green.
Note, the colors of the flag derive from technical considerations. They are 8 equidistant hues forming a compass on the Munsell color wheel, where "north" and "west" are a warm yellow and a crimson red, respectively. All eight hues result from this orientation. These eight colors adapt to the irregularities of RGB digital hues, and for its HSL system, each Hue is always 100% Saturation and 50% Luminance. In addition to these eight hues, the ninth color, white, adds.
The eight hues are "complementary colors", meaning, if you stare at the elven Pride Flag and then look at a blank white background, the afterimage is an other Pride Flag with the reverse colors.
I am mentioning the elven Pride Flag for my setting, here, because I want it to be as inclusive, useful, and as sensitive as possible. Any thoughtful comments about this Pride Flag and its fey elven cultures generally, are welcome.
In sum, here are the meanings of the nine colors of the elven Pride Flag (Yaarel 2022).
• Purple: female anatomy
• Crimson: Woman community
• Orange: feminine gender
• Yellow: intesex anatomy
• White: Nonbinary community
• Green: genderqueer gender
• Aqua: male anatomy
• Sky: Man community
• Indigo: masculine gender
In addition to this Pride Flag representing elven diversity generally, individuals use one or more specific colors to express ones own identity or to signal to a prospective mate who one is seeking. An elven household often displays a flag or banner with sections for the colors of each headofhousehold mate.
In the setting, a historical local eladrin court innovated the elven Pride Flag and its usage for various coat-of-arms. But these days, most elven courts embrace it. The colors are especially prominent during the romantic flourishings of the annual sacred Revelry. Additionally, many of the cultures of other races have also adopted it.
Last edited: