[MENTION=11146]CanadienneBacon[/MENTION]
[sblock=Girri]
"Looky there!" the thug whispered to his partner. Trolling the foggy alleyways of Waterdeep was finally about to pay off. The woman was staggering drunk; they could smell the ale on her before they even reached her.
"Easy lass," the second thug said. "Here, let us help you." She looked up, smiled. She tried to speak, but the drink had taken her words and instead she only giggled. She tried to keep walking as he held her up but she couldn't move. She noticed the grip around her arm tightening, and she realized that he wasn't holding her up, but holding her still.
"Wai.." she tried to protest, but then her head slammed against the back alley wall of some run-down Waterdhavian dungheap. She slid down the wall, helpless. Their voices were an audible blur, but just before she lost consciousness she saw the fog-shrouded silhouette of one of the men unfastening his trousers.
[/sblock]
Girri finds herself in an unfortunate position in a Waterdhavian alleyway.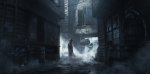 Image by KirillArt
​
[MENTION=40413]GlassEye[/MENTION]; [MENTION=23484]Kobold Stew[/MENTION]
[sblock=Kasimir, Mr. Aldershot]
The large man lay against a sturdy tree, bleeding. The claw marks across his face and the gore seeping from beneath his tunic suggested he wasn't long for the world and, looking at him, the small halfling thought that maybe the man was just fine with that. He seemed at peace despite the pain, and so the halfling set to let the hunter die in peace. He made his camp close by, and would maybe do what needs to be done in the morning when the hunter had passed.
Kasimir waited for death, longed for it in some way. The bear had done him a disservice by not killing him outright, but death would come soon enough he knew. And the Labourdine curse would finally be broken. He leaned over and coughed up a lump of blood and bile, then relaxed against the tree and watched the fog roll across the full moon and seep deep into the forest canopy.
[/sblock]
Kasimir waits for death.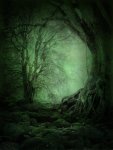 Image by frozenstocks
​
[MENTION=33284]Yavathol[/MENTION]; [MENTION=6799753]lowkey13[/MENTION]; [MENTION=6829052]Wrex[/MENTION]
[sblock=Wergil, Farshid, Brother Rufus]
Wergil followed the heretic to a hovel in the docks district where he'd taken a bent up old street vendor with a promise of healing. He'd heard the stories, but this he had to see for himself. After all, his job was to investigate, not to intervene. And so he crept up to a window and watched.
Farshid lay the vendor on a filthy bed and set to work. The sun had set long ago and the heavy fog filtered the light of the full moon, but the heretic had candles and a bullseye lantern that lit the room plenty. With shaking hands he looked back to a shadowed corner of the room, and it was only then that Wergil noticed that there was a third man in the hovel. He was well armored, and armed with a halberd—a soldier, Wergil knew.
"Heal him, and prove yourself! Prove your Lord of Light! But fail…." He left the threat hanging, and Farshid returned to his work.
He laid his hands upon the old man, and Wergil saw his eyes roll back in his head. He began some incoherent chanting and the old man began to glow!
"I feel it! I feel the light!" the old man screamed, and Farshid's chanting grew more fervent.
"Wait!" the old man screamed. "It hurts! It hurts! Sto…" but before he could finish his protest, the old man burst into flames, unleashing a fireball that blew out the wall, landing on top of Wergil outside. Farshid jumped back, knocking over the bullseye lantern. The entire hovel was instantly engulfed in flames, and Farshid and his captor were quickly overtaken by the smoke.
[/sblock]
Farshid makes an error.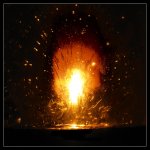 Image by Mrichston
​
---
[sblock=Girri]
Your head aches, and your muscles are screaming at you, but you manage to open your eyes to a cold, dank alleyway. The fog hangs thick, but it doesn't obscure the two dead bodies lying close by with their throats torn out. Your hands are covered in blood, and you can hear the sound of bootheels clicking on the wet cobblestones.
[/sblock]
[sblock=Mr. Aldershot]
You awaken early in the morning, the fog still hanging thick in the forest. You'd swear the trees aren't the same ones that surrounded you last night. Still, you grab your gear and make your way to the hunter, ready to lay his broken body to rest. It takes you some time to find him, even though you know he was just over the hill, but when you do you're shocked into silence. The hunter is not only still living, snoring peacefully under the tree, but he appears to have been fully healed! While his face and tunic are still smeared and caked with old blood, there is no sign of even the faintest scratch to be seen. Your badger companion begins to growl, and the hunter's eyes bolt open!
[/sblock]
[sblock=Kasimir]
You dream of walking through the forest with the bear that released you from your curse, your thick fingers happily entangled in the soft fur, offering a scratch behind the ears. But then the bear suddenly turns on you, and stands its full height on its hind legs and growls. Then your eyes bolt open, and your dream of death becomes a nightmare when you realize that death has yet to take you. There is a strange looking halfling man standing over you, and a growling badger next to him.
[/sblock]
[sblock=Wergil]
You manage to push the debris off of you and sit up. It takes several moments for you to recall the events of the night before; events that, by all rights, should have killed you. It is only then that you realize that the debris surrounding you is not burnt, nor is the building form which it came. Instead it is only old and decayed wood from a dilapidated shack on the edge of a woods. There is no other building in sight through the thick fog hanging in the air.
[/sblock]
[sblock=Farshid]
The smell of burned flesh wakens you, but as you open your eyes you find that you are alone. There are no others, burned or otherwise. You are not in the hovel of the night before, but a closed cell with four fully intact walls. A small barred window peeks out onto the fog-shrouded cobblestone streets and a ghostly song of intangible whispers swims through your head.
[/sblock]
[sblock=Brother Rufus]
You wake up seemingly from a dream and find yourself walking down a strange, foggy road. The events of last night seem so distant, you're not even sure if they really happened. This place… this town, if it is one, is deathly quiet. If it weren't for the three figures at the end of the alley, you'd swear it was abandoned. Is that blood on her hands?
[/sblock]
Last edited: