Digger slightly (only slightly) relaxes as he sense no undeath in the area. Folding his arms he waits for Halo to pry whatever information she can from the woman.
Irena walks to the top of the steps and gives the grieving mother a curious look. Seeing nothing amiss she turns her remarkable skills towards the room, trying to get a feel for what is going on.
Tilly stays close to her father and always behind him, to be out of the way just as she was taught. Josiah sees nothing amiss in the room, so cocks his head to listen to the conversation above.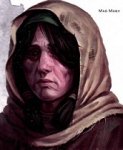 Rubbing her eyes and wiping her nose, the distraught woman keeps back a few sobs as she speaks.
"I tried. I tried so hard to protect her. I told her this land is evil. That monsters lurk everywhere and like nothing better than to eat little girls. But she didn't listen, she didn't want to stay. I did all this to protect her, but still she ran away."
Then it hits everyone like an open book telling them the answer. This woman boarded up her own home. Keep her daughter trapped in this little attic room. And was to scared of what lay beyond her door to go out looking for her, herself.