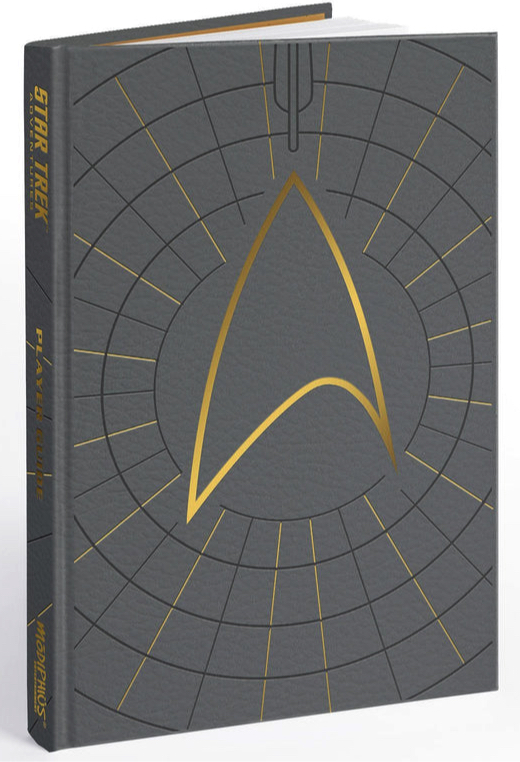 Good RPG advice can be hard to find. There are often some nuggets in the GM section of the core book, but those are usually too busy running through the rules for broader topics like theme and feel.
Star Trek
stories play out in a certain way, usually with a moral quandary in the center, with characters we know and love debating the pros and cons of the issue. Modiphius recently released the
Star Trek Adventures Player's Guide
and the
Star Trek Adventures Gamemaster's Guide
to help tables expand the options available to tell stories in this universe. Modiphius sent me a pair of review copies and I'm tackling both books here. Are these books worth your hard-earned gold-pressed latinum? Let's play together to find out.
Each guide is digest sized. The physical editions come in a faux leather cover that looks handsome and feels good. The internal layout also differs from previous products with a crisp cleanliness that's easy to read. While I've enjoyed the line's adherence to the LCARS aesthetic of
Next Generation
and the brief dip into a grungier look for the
Klingon Empire
book, I wouldn't mind seeing future books using this style. Some pieces of art have been pulled from other books, but these are also the first books able to feature cast members from
Star Trek: Discovery
and
Star Trek: Picard
.
The Player's Guide
features a lot of advice on making a good character. There's discussion about specific roles and archetypes in Star Trek and how to build characters for them. There's also good general advice on how to work together as a team and how to support each other as players. These sorts of books often feature tons and tons of character options and mechanical toys. There is some of that here, but it's also nice to see a discussion of play styles and techniques to make sure players don't hog the spotlight.
The
Gamemaster's Guide
has plenty of advice along a similar vein for the other side of the screen. There's a discussion about safety tools and session zero that goes into a bit more detail about deciding what sort of Star Trek story everyone wants to tell. There's also a segment on essential viewing to get up to speed as well as discussions of campaigns beyond the standard default Starfleet game. That's followed up with some alternate character creation rules and even different sets of skills and attributes to support non-Starfleet adventures in the setting.
There's also an excellent discussion of technology in
Star Trek
. This seems like stuff anyone playing the game should know already or could find on a wiki, but the text focuses on important, gameable elements. It breaks down different moments in time when the tech is upgraded across the different time periods which helps players grasp whether or not they need to push to get their results and solutions. These tech discussions also can inspire Gamemasters by showing them what these wondrous devices can't do and constructing plots around their limitations.
Themes of the franchise also take up some word count. These discussions are great because they help Gamemasters get the feel of an episode right. It's okay to have funny episodes. It's okay to show the wonder of the universe. These discussions feel a little like agendas from indie games and go a great distance to illustrate how the franchise stands on its own besides other big name science fiction.
The main caveat I have about these books is that this discussion is so nice, they printed it twice. There's duplicated content in these books and that can rub people the wrong way if they feel they are buying the same thing twice. If the table shares book purchases, this would be a good one to split, but completists will likely want to get both volumes just to compliment each other.
If you're looking for some great advice on how to run a
Star Trek
game, these books offer a lot of fascinating discussion.
Last edited by a moderator: