Out of the frying pan...
GM:


As per the OOC channel, Respen holds his action to 9b.

Initiative Chart For Battle:

Tam: 23
Dewydd: 19
Vega: 18
Lathir: 17
Sylvar: 16
Vale: 9a
Respen: 9b
Golem: 8
Orcs: 1


Dewydd lifts himself up, and does a handspring off the wall of the well, landing safely on the other side.
| | |
| --- | --- |
| GM: | This is a full round action; I had said STR check earlier, but Tumbling is the same skillset, so I allowed Deywdd to do that instead. With a DC of 15, there is no need for him to roll; he cannot fail that DC. |
Despite her instinct to join the fray, Vega continues to watch anxiously as her friends risk their lives!
| | |
| --- | --- |
| GM: | WS Check DC 13: roll = 14 (success) |
Current Positions: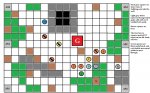 ​
Lathir: It's your turn. You are currently engaged in melee combat with Orc #2. What do you do?