Chat Thread
Rogues Gallery


Prologue: A Different World

A westerly wind picked up as the
Swordcoaster
, Captain Threwe, approached the inner mouth of the Bay of Chult. To the west, mountains of dark grey stone lead to jagged peaks jutting out from an endless canopy of trees so thick it seemed as if the sunlight could only dare to beat its way in. Ahead, the tall stone-cast walls of Port Nyanzaru formed a stockade barrier between the wide bay and the city itself. The ship passed through huge gates, revealing the harbour and the rising land that split the city's districts. Rows of buildings could now be seen, made of multi-hued stonework with colourful rooftops and murals.
Small, winged reptiles flew in zig-zag patterns across the ship's bow and settled into the trees as the crew made anchor in the bustling harbour. Wasting no time, Captain Threwe ordered a boat be put over the side, and he personally escorted his most important guests to shore. The crew's oars dipped steadily into the clear blue water as the boat negotiated it's way through the busy throng. Captain Threwe turned to his guests seated in the bow and said,
"Welcome to Chult, gentlemen. May I ask what you plan to do on your stay?"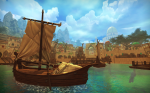 Last edited: