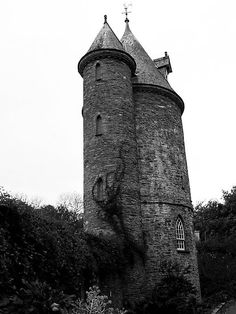 In response to a general summons, sent by broadsheet, town criers, bards, and rumourmongers, you have come to the village of Hap in Battledale, where a Turmishan wizard named
Imani
is said to be seeking adventurers. As you enter the wizard's wide, stone tower, with a well-kept garden, you see that you are not the only one to have answered his call. You may recognize only some of these fellow adventurers, but they all appear as well-seasoned and well-traveled as you.
The receiving room is small, but lavishly decorated, with tapestries, a fine rug, and comfortable-looking chairs. Your eyes are drawn to a large table against the far wall, covered in fruit, meat, cheese, and bread. A servant stands nearby, with wine, and a keg of beer is easy to spot behind him. To the servant's left, an iron staircase spirals upwards and out of sight through a hole in the vaulted ceiling. A female halfling in comfortable clothes sits on the stairs, with a bemused expression on her face, and she watches as more adventurers arrive. A large man in white-and-grey furs pushes past you, stretches, and sits on an oak bench next to the fireplace, which is on your right.
At the moment, there is no sign of the Wizard.
Last edited: