"Necromancer!?"
the constable says looking around to make sure nobody from town was trying to eavesdrop on their conversation.
Not wishing to discuss this outside he takes you all into the butcher shop and closes the door. He moves to a small writing desk and begins shuffling through some papers. After a moment he finds what he is looking for and brings a small map to the worktable, moving a slab of half carved up pig out of the way.
[sblock=Map]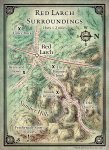 [/sblock]
"So west,"
he mumbles looking at the map.
"Ah! Lance Rock!"
he exclaims taking a nearby charcoal stick and marking the map.
"That must be it. Didn't know there were any caves about, but their could be. That terrain is hilly and rocky enough."