Hello everyone, Darryl here with this week's gaming news! New
Dungeons & Dragons
adventure book announced, update on the
Dungeons & Dragons
movie, Stephen Colbert teaming with Critical Role for charity, first playtest for EN Publishing's
Voidrunner's Codex
, and more!
For a quick summary of the week's news, Jessica Hancock will bring you up to speed with
This Week in TTRPG.
Don't forget, you can keep up with all the week's gaming news in detail with
Morrus' Unofficial Tabletop RPG Talk
! This week, Morrus and Peter are joined by Jessica Hancock to talk about the Rule of Cool vs. Rules as Written.
In case you missed it elsewhere on EN World this week:
Wizards of the Coast
teased something with a post of an image of crystals
, and it didn't take long before the
news broke of Journeys Through the Radiant Citadel, a new adventure anthology book for Dungeons & Dragons
. This new 224-page hardcover will contain thirteen new short, stand-alone adventures for parties ranging from 1st level to 14th level tied to the Radiant Citadel, a magical city on the ethereal plane carved from the fossil of an unknown giant monster. While the words "Spelljammer" or "Planescape" aren't mentioned, the adventure description does mention the multiverse in a tantalizing way:
Through the mists of the Ethereal Plane shines the Radiant Citadel. Travelers from across the multiverse flock to this mysterious bastion to share their traditions, stories, and calls for heroes. A crossroads of wonders and adventures, the Radiant Citadel is the first step on the path to legend. Where will your journeys take you?

Journeys through the Radiant Citadel

is a collection of thirteen short, stand-alone D&D adventures featuring challenges for character levels 1–14. Each adventure has ties to the Radiant Citadel, a magical city with connections to lands rich with excitement and danger, and each can be run by itself or as part of an ongoing campaign. Explore this rich and varied collection of adventures in magical lands.

Thirteen new stand-alone adventures spanning levels 1 to 14, each with its own set of maps
Introduces the Radiant Citadel, a new location on the Ethereal Plane that connects adventurers to richly detailed and distinct corners of the D&D multiverse
Each adventure can be set in any existing D&D campaign setting or on worlds of your own design
Introduces eleven new D&D monsters
There's a story for every adventuring party, from whimsical and light to dark and foreboding and everything in between
We've also got
a full list of the adventure titles
: "Salted Legacy", "Written in Blood", "The Fiend of Hollow Mine", "Wages of Vice", "Sins of Our Elders", "Gold for Fools and Princes", "Trial of Destruction", "In the Mists of Manivarsha", "Between Tangled Roots", "Shadow of the Sun", "The Nightsea's Succor", "Buried Dynasty", and "Orchids of the Invisible Mountain".
The credits page has also been released
, and
project co-lead Ajit George discusses the diversity of the creative team
, making it the first official
Dungeons & Dragons 5e
project with an all-PoC writing team.
Journeys Through the Radiant Citadel
is
available for pre-order with a North American release date of June 21, 2022, at a retail price of $49.95
.
Chris Pine is currently doing a press tour for the film All the Old Knives, but that hasn't stopped curious interviewers from asking about the Dungeons & Dragons live-action film
. During a live stream interview with Collider, Pine (
Star Trek, Wonder Woman
) was asked what he could tease people about the movie.
"Oh man. Well, what I will say is we had a hell of a fun time making it. There was a lot of laughs. The way that I've been describing it, it's like Game of Thrones mixed with a little Princess Bride, just a smidge of Holy Grail; it's somewhere in that ballpark. It's a lot of fun. It's got a lot of thrills. It's poppy, it's eighties heartfelt, there's a bit of Goonies in there. My character, he's the ultimate party planner. I think it's going to be really good. I mean, who naughty word knows, but I think we got a good shot and John and John are killer guys. They know comedy and they know heart and we had a great cast and we had a good time making it. And that's all you can ask for."
Dungeons & Dragons
stars Chris Pine, Michelle Rodriguez, Justice Smith, Sophia Lillis, and Regé-Jean Page with Hugh Grant as the villain and is currently scheduled for theatrical release on March 3, 2023.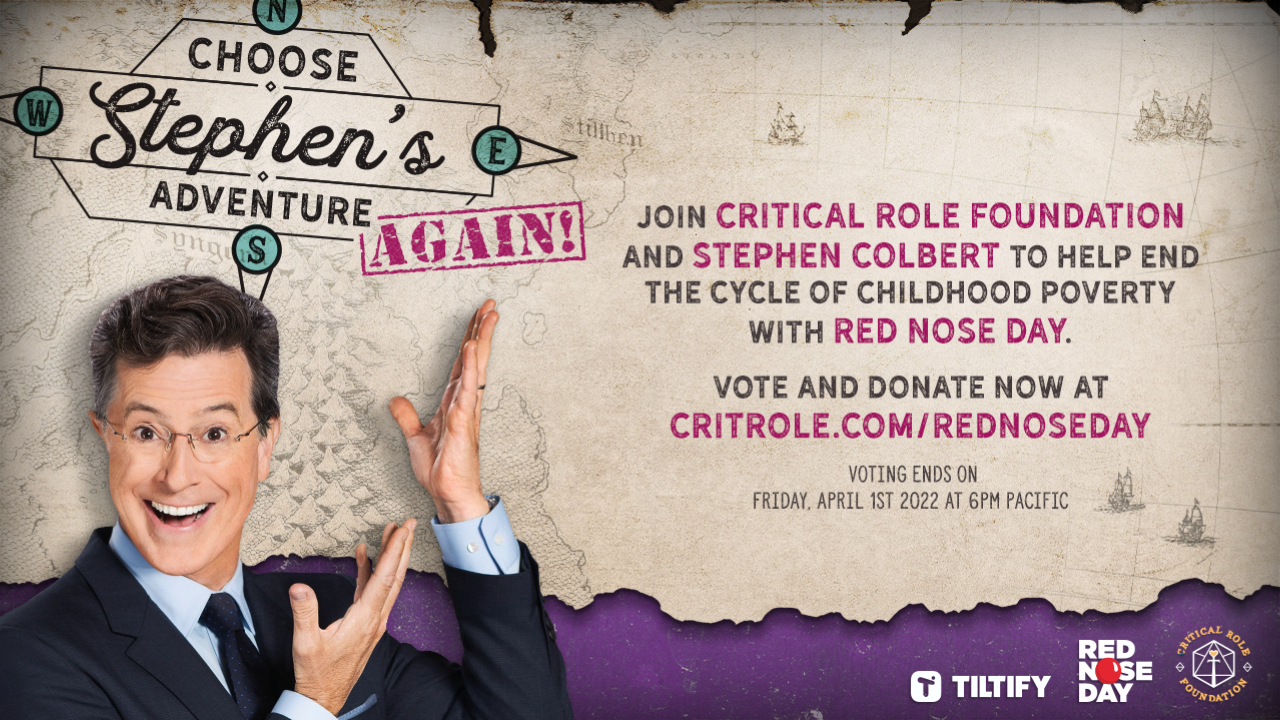 Two more announcements from Critical Role this week.
First, the publishing arm of the company Darrington Press announced Syndicult, a new roleplaying game
. This new game written by Matt Mercer focuses on a modern-day fantasy setting where crime syndicates "vie for magical power in a world of artifacts, mysteries, and crime". No release date is available yet and the only preview we have is a single comic book style panel, available in the link above.
Critical Role is also teaming once again with Stephen Colbert for a charity Dungeons & Dragons event going one-on-one with DM Matt Mercer benefitting Red Nose Day
. The pre-recorded video will premiere April 28 at 7 PM Pacific (10 PM Eastern, 3 AM BST) and your donations will affect the game. There are four polls open until April 1 that will choose Stephen's starting gear, a spell he can cast regardless of class, his familiar, and the thing that he must recover.
This marks the second time the two have come together for charity following their prior Red Nose Day charity event in 2019
. Proceeds from the fundraiser benefit Red Nose Day, the American branch of the UK charity Comic Relief.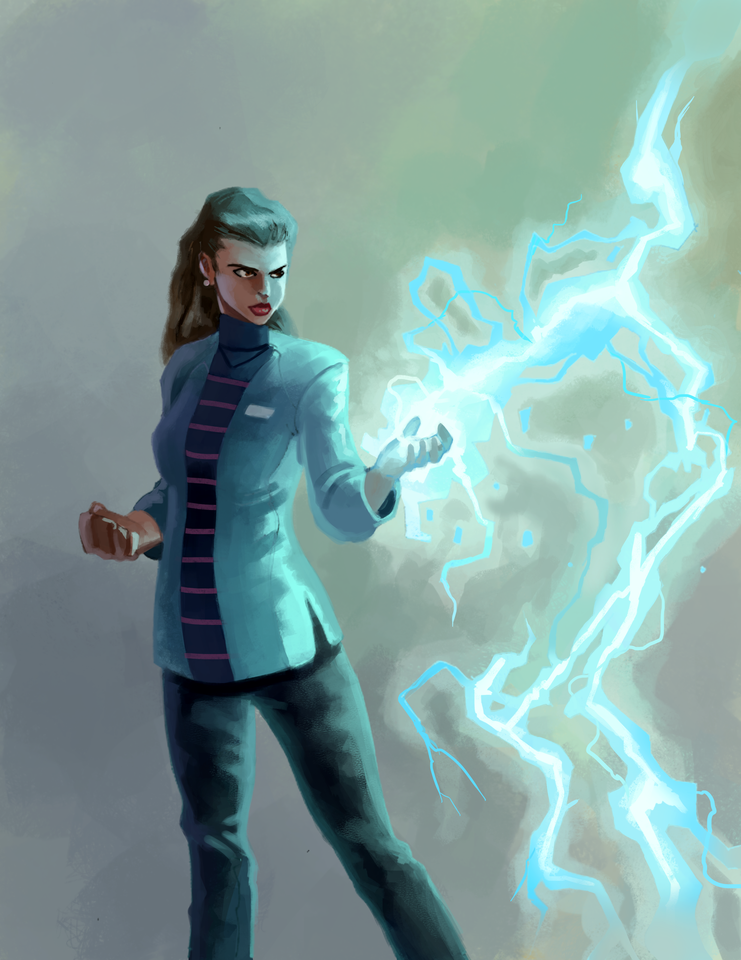 The first public playtest for EN Publishing's Voidrunner's Codex is now available: the Psion class
. While the rules are cross-compatible with the fantasy
Level Up: Advanced 5e
, the setting of
Voidrunner's Codex
is straightforward science fiction with no magic. But that doesn't mean that a being with the focused mental willpower can make use of their gifts to influence the physical world with their mind. The 28-page playtest document includes the full class all the way to 20th level and three Psion Archetype subclasses: Augur with powers focused on precognition and divination-like abilities, Mindshear focused on telepathic and mind-altering powers, and Warstorm who devote their psionic abilities into physical objects and energy. The playtest survey is open now for feedback in preparation for the
Voidrunner's Codex
crowdfunding campaign later this year.
Chris and Rita Birch of Modiphius launched the charity RollVsEvil this week to raise money for humanitarian aid efforts
. The event kicks off tonight, March 25, with a live stream event at 8 PM Eastern (5 PM Pacific, 1 AM BST), and the fundraising continues this Saturday, March 26.
From the RollVsEvil website
:
PLAY ANY GAME — DONATE! — IT'S THAT SIMPLE!

All you need to do is "'Just play a game" online or in-person this Saturday, March 26. Why don't you drop a few dollars on the table for playing, a few dollars to re-roll the dice, or draw another card! It's up to you – keep it fun and simple.

One member of the group should collect the money and pay it into our

Just Giving page

. If you're all remote, don't worry!

Play online with Roll20!

Use code VJMNX-R911F-G1EWY on the

Roll20 Marketplace

to unlock some free bonus content for your games. This code is active until April 26th.

And don't worry, if you can't play this Saturday, just play a game on any day that works and join in when you can. There's always someone who could use help and we will have many more events. RollVsEvil aims to do its best to support as many people as we can.
Participating companies include Mantic Games, Steve Jackson Games, Gama, Cubicle 7, Roll 20, UK Games Expo, Steamforged Games, R Talsorian Games, Chaosium, Titan Forge, Q-Workshop, Paizo, Mythic Games, Magpie Games, Green Ronin, Para Bellum, and more. At the time of writing,
the JustGiving fundraising page has already raised almost £10,000 in the lead-up to the official launch
.

Kickstarter CEO Aziz Hasan announced that he is stepping down from the position effective April 4, citing "personal reflection"
. Hasan led the company through extensive growth, but also through multiple controversies including
accusations of attempting to block the formation of the first labor union in the tech industry
,
the resignation of the Vice President Head of Community Luke Crane following a highly controversial Kickstarter project
, and
the ongoing controversy surrounding the company's move to blockchain technology
. Chief Operating Officer Sean Leow will take over the role of Interim CEO as the board chooses a new head for the company.
Modiphius released two new short
Star Trek Adventures
products this week.
The first is the Star Trek Adventures: Discovery S1 Crew Pack
featuring character sheets for the first season roster of the
USS Discovery
including Captain Gabriel Lorca, Commander Saru, Lieutenant Paul Stamets, Lieutenant Commander Hugh Culber, Michael Burnham, Lieutenant Ash Tyler, Cadet Sylvia Tilly, Emperor Philippa Georgiou, and L'Rell plus player rules for Kelpiens and statistics for the
USS Discovery
. The 22-page PDF is available for $4.99.
Also out this week is a pay-what-you-want Star Trek Adventures Briefs 5: Starbase Adventures
. This 16-page PDF features ten detailed mission briefs highlighting adventures on starbases. Designed to work either with campaigns set on starbases like
Deep Space Nine
or for a starship crew visiting, the mission briefs can be used as one-off adventures or used to create a full campaign. This product is designed for the Next Generation era but can be easily adapted for other time periods in
Star Trek
.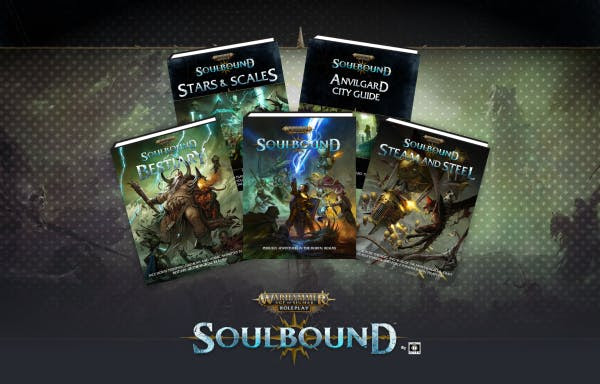 Cubicle 7 has partnered with Humble Bundle for the Warhammer: Age of Sigmar: Soulbound Bundle
featuring a total of 24 books with everything you need to get started with
Soulbound
. This bundle benefits Children's Health Ireland and runs until Thursday, April 14. If you want to fill out your library of
Pathfinder First Edition
books,
Humble and Paizo have a bundle of 40 titles for just $35
including a full collection of character option books in digital format plus a hardcover of the
Inner Sea World Guide
. This bundle benefits the National Coalition Against Censorship and runs until Saturday, April 2.
We've also got a bundle of original Traveller books with over 40 digital books for the classic sci-fi RPG
. This bundle benefits the Navy-Marine Corps Relief Society and runs until Thursday, April 7.
That's all from me for this week! Don't forget
to support our Patreon
to bring you more gaming news content. If you have any news to submit, email us at
news@enpublishingrpg.com
, and you can get
more discussion of the week's news on Morrus' Unofficial Tabletop RPG Talk
every week. You can
follow me on Twitch to get notifications when I go live,
subscribe to Gamer's Tavern on YouTube for videos on gaming history, RPG reviews, and gaming Let's Plays
, or you can listen to
the archives of the Gamer's Tavern podcast
. Until next time, may all your hits be crits!
Note: Links to Amazon, Humble Store, Humble Bundle, and/or DriveThru may contain affiliate links with the proceeds going to the author of this column.