Sunless Citadel Dungeon Pieces
I have run the Sunless Citadel by Bruce R. Cordell a few times. It was the module that launched 3rd edition D&D and was recently converted to 5th edition in Tales from the Yawning Portal. It is fun dungeon crawl and I recommend it highly. However, there are a few parts of the dungeon that are difficult to represent with Master Maze. I decided to use my Hirst Arts molds to create some practical pieces to fill a few voids in the Dwarven Forge stuff.
Here is one of the problematic rooms (#20):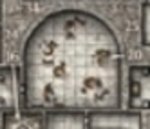 Sorry, for the blurry map picture, but it gives you an idea of the problem. That big semi-circular part of the room is tough to represent. I have used the older resin cavern curve pieces in the past, but this really was not satisfactory. So using Bruce Hirst's 8″ circular tower field stone mold, I made these: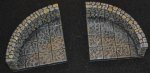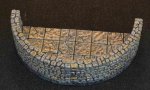 Here is room 20 using these new tiles: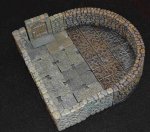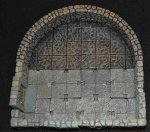 The paint scheme is much darker than the old Master Maze, but it is much closer to the newer Dwarvenite. The picture below is a comparison with the newer stuff: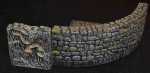 Not perfect, but there is a wide variation in the Dwarven Forge paint schemes too, and it certainly looks decent on the table. The piece was built on a piece of cheap vinyl tile and I gave it a felt backing: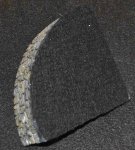 The room's dimension's do not exactly match my build. My build is 40 scale feet across and the map depicts a room 45 scale feet across. I could insert a few 5 feet pieces to match, but I wanted a practical piece I could use in lots of dungeons.
These pieces will also serve as the basis for building some of those darn circular rooms that dungeon designers seem to insist on using.
Last edited: