With no apparent additional questions Supervisor
Atos assigns one of the security guards to take the team and their gear to the readied hopper. "Good luck and thanks for coming" he says before heading back indoors. The hopper was idling on its platform when the team arrived with a few ground crew making final adjustments. Summer and one other person could ride in cockpit while the rest and their gear was piled in the back hold. With the doors closed the space was comfortable enough as the team was quickly on their way.
[sblock=Hopper]this is a Air-Rescue Model but more or less the same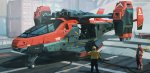 [/sblock]
Summer found a telemetry beacon overlay for the mining outpost highlighted in her HUD and was soon hitting low orbit just over the speed of sound in no time. A few short hours later the hopper was at a much lower altitude and flying over the white glaciers of northern Corvus. As they approached the crevasse no other vehicles showed up at least not on the surface ice, nor was there any radio traffic from the mining outpost itself. All was silent.
The hopper then hovered over the edge of the crevasse in the ice sheet to see the mining outpost 100 some feet below. There was a wide landing area flattened out on the ground below where VTOL like craft could land but it would be a tight fit Summer thought. On the opposite edge of the ice walls where the mining outpost was located seam could be seen rising out of ground, indicating that the thermal vent was at least partially active.

The only part of the mining outpost visible was the combi-hab stack/main processor
[sblock=Hab Stack/Main Processor]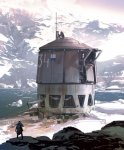 [/sblock]


The stacks did not look like they had suffered any damage and Summer piloted the vessel down into the crevasse to the landing area. It was somewhat loud but there appeared to be no activity non any radio challenges from the structure...


| | |
| --- | --- |
| GM: | From the teams perspective there is two normal entry ways, one about 2/3 of the way up on the side of the stack with access to it from a metal staircase bolted to the side of the structure and one near ground level. There is also a larger cargo like access door near the ground level access port. How does the team wish to approach? If you want to use any skill go ahead and roll them |