Notorious Liquefactionist
Welcome to part NINE in the art appreciation series- One Piece of Art! Prior columns can be found here:
Part I (Classes)
Part II (Monsters)
Part III (Magic Items)
Part IV (Races)
Part V (Places)
Part VI (Maps)
Part VII (Spells)
Part VIII (People)
Today's topic ... Wildcard!
What non-D&D Art Made You Love D&D?
This is a little weird ... basically, we are looking for a piece of art (probably fantasy art) that had nothing to do with TSR/WoTC/D&D that you loved, and somehow managed to worm its way into your head like the critters in Star Trek II ... so that you associate it with D&D. It could be anything from a Frazetta piece to a Dali painting to a cover on an old Conan book.
As always ... please note the following rules for the thread-
1. ONE piece of art. You shall count to one. If you do two, you've gone two ... um, too far. Three is just way out. And zero means you forgot to post something. Now, I know that everyone just ignores this ... but try your best!
2. It has to be art you love, and please explain why! Maybe you think it just looks cool. Whatever! It's your love, don't make me put a label on it.
3. Explain the art source (incl. artist if known), the spell (if known), and why you chose it. Please!
Now, as usual, I will start this thread off. Have to admit, there's a lot I could do. But I always go with the curveball ....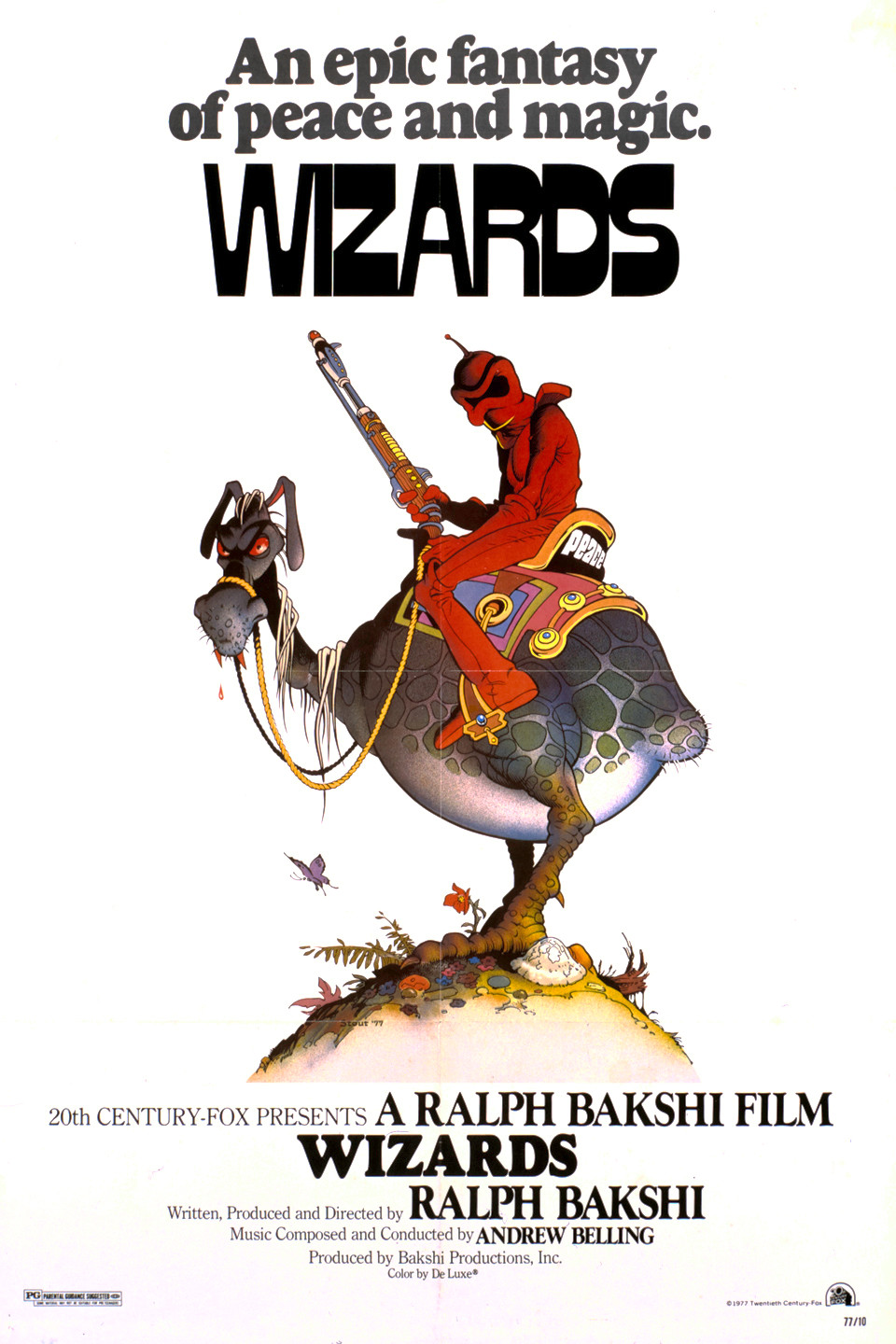 Artist
: Unknown for the poster, but Ralph Bakshi did the art design (of course).
Source
: Movie Poster for
Wizards
(1977)
Depicting
: Necron 99 / Peace
Why this one? Well, along with books like
Lord of Light
(Zelazny), this image, and the movie (which ... yeah, does not age well) gave me the constant impetus to keep "crossin' the streams" when it comes to D&D. There was never a genre dividing line for me- fantasy, science fiction, westerns ... it just all went into the blender.
Also, a request
. I really wanted to include this weird poster from, I think, the 70s. I can't locate it anywhere. It was a croll-type poster (much wider than tall). the foreground had a wall. On the left side was a jumping black cat. On the right side was a mysterious buddha-like figure with four or six arms. in the background was a city of some kind. If this sounds familiar, or you can source it ... please let me know and "at" me!