Creator of The Untamed Wilds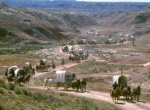 ​
As children, you've grown up traveling with a a silk caravan that journeys between Asylim, the southern port city, and Boga City, the central trade hub of the continent. Being a rather large caravan, there is a cartwright, leather worker, blacksmith, and a master weaver.
The silk is collected from spider webs in the southern part of the Thelanerest Forest and woven as the caravan travels. The caravan returns with iron and tin.
As children, your group became friends and went on mini adventures together like friends would do. As you are now adults, conversations have engaged concerning a different future than the caravan life.
Sheldon is Centrin, having been born in Boga City. He is of medium build and height, light complexion with reddish-blond hair. He does not carry a weapon but shows a talent for weaponless combat. His closest companion is Indigo.
She is a Rheini, having been born to the caravan. Her mother, the caravan's herbalist, was born in the Siswa'alo Jungle east of Asylim. She is medium build but relatively short having a bronze complexion and long black wavy hair. She carries twin, single-edged swords the length of her arm.
Sheldon has a quiet, yet direct way of speaking. He states to the group one evening,
"
I think it is time that we strike out on our own
."
Last edited: