Creator of The Untamed Wilds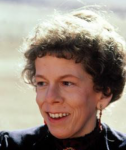 ​
Lyndha stand from her stool and walks around the counter. The other patrons have departed, along with Galen and Siofra, leaving only the remaining party members to whom her interest seems to have piqued to direct negotiations. As she rounds the counter, her abrupt shortness is momentarily distracting but easily overshadowed by her big personality.
"
You young people present yourselves as a bit more discriminatory than most who pass through. I sense great potential here. By the way I personally like the sound of Southroad Seekers. It flows from the tongue more fluidly than searchers. Shankers sounds like some back alley cut-throat, but of course you jest and knew that

.
"
"
I understand you are having some armor made from lizard hide you brought with you, hence your pre-developing moniker. I tell you truthfully, lizard hide is far superior to any leather I can offer you here.
"
"
The soft hides we have in abundance are cured from pig and deer. While of a fine quality and decent durability it would offer you no more protection than the corded fabric armoring some of you currently wear. You are not fancy guard dandies. Don't waste you coin or credit on looks. Use it on functionality as you may yet prove to be ones to undertake a particularly dangerous quest for which I have a special interest, but more on that later.
"
"
As far as bows are concerned we are flush with them, and one of the carpenters is a fine craftsman of the fare. The differences in cost and construction factor into their effective range; although with that, some of the bows require quite a strength to draw.
"
OOC:

Types of Shortbows


Simple Pine (100 clams)
Simple Chestnut (150 clams)
Stranded Chestnut (200 clams) (requires Strength => 2)
Stranded Hickory (250 clams) (requires Strength => 2)
Recurve Pine (200 clams) (requires Strength =>2)
Recurve Chestnut (300 clams) (requires Strength => 3)
Recurve Hickory (500 clams) (requires Strength => 5)
OOC:

Types of Longbows


Simple Pine (150 clams)
Simple Chestnut (200 clams) (requires Strength => 2)
Stranded Chestnut (300 clams) (requires Strength => 3)
Stranded Hickory (400 clams) (requires Strength => 4)
Recurve Pine (250 clams) (requires Strength => 2)
Recurve Chestnut (400 clams) (requires Strength =>4)
Recurve Hickory (600 clams) (requires Strength => 6)
OOC:

Types of Crossbows

(requires Strength => 2)
Single-Hand (200 clams)
Small Levered (300 clams)
Large Levered (400 clams)
Large Cranked (500 clams)
Last edited: