Creator of The Untamed Wilds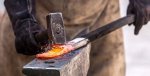 ​
As children the Southroad Seekers had grown up with one of the various caravans traveling from the port city of Asylim in the south of The Untamed Wilds to Boga City, the trade hub of the continent. Upon reaching a mature enough age, each future member had departed his caravan meeting by fate, destiny, or coincidence in Southroad Fair, an outpost community about half way between Asylim and Boga City.
Joining together, the Southroad Seekers established themselves and their name by solving 3 dilemmas that were plaguing that community. Discussing the possibilities of striking out on their own adventure, tragedy once again befell the small outpost in the form of a key assassination. Martello, the Blacksmith, was found murdered on the very morning of their planned departure, staving off those plans. A mark of the Ansylin Assassins' Guild was left upon the chest of the body, removing any doubt as to the credit for the kill.
Suausedeserp, derogatorily called Sauce Drip, one of the Magisters of Asylim, had long been suspected of orchestrating various assaults on the outpost in the past. Now with the murder of a key member of the community it has, once again, fallen to the Southroad Seekers to solve the new dilemma. Knowing that it would not yet be possible to make a head-on response directly at a prominent figure of the ruling body of a city so far to the south, a more immediate solution must be found.
Rumor of a mining community has given impetus to an expedition of finding a replacement smith and/or establishing a method of trade with that community.
GM:
Main Objectives:
Establish contact with the rumored Mining Community possibly located in the mountains to the northeast.

Find a replacement for the Blacksmith or a dependable means of trade to compensate for his loss.

Side Objectives:
Find enough pack animals to initiate a Silk Trade from Southroad Fair undermining Sauce Drip's trade from Asylim.

Collect hides for Swift Raven, the Tanner of Southroad Fair, other than the common pig and deer.

Collect spider and beetles carapaces for Maeli, the Herbalist of Southroad Fair, for the production of lacquer.
Last edited: