Creator of The Untamed Wilds
This is the fourth scenario of The Caravan Campaign.​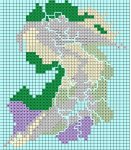 ​
GM:
Leaving the Caravan:
In the first scenario of the Caravan Campaign, the characters created an identity and established a reputation for themselves, aiding in promoting the development of the Southroad Fair community. Sannit was awarded the title of Minister of Foreign Relations.

The Steel Trade:
With the assassination of the town's blacksmith, the Southroad Seekers were tasked with discovering an alternative. They were able to locate and establish trade for tools with the Maldrog town of Bergbaulager. A new member, Vadin, joined during this time. Tor spent time studying with a Maldrog smith and has since been able to make minor repairs, filling in for the nonexistent blacksmith when he is in town. IT was learned that Bergbaulager, currently, has the foremost skill in metal working.

Boga City:
In the third scenario, the Seekers took it upon themselves to try to further trade and foster relations by traveling to Boga City, the trade hub and central city of the continent. Positive relations were established with the rulers and some successful trade was conducted. It was learned that Boga City has the foremost skill in textiles while Southroad Fair maintains the foremost skill in leather working. It was also noted that the construction of a new tavern is being conducted at the river crossing between Southroad Fair and Boga city.

Welcome to the Jungle:
In this fourth scenario, the Southroad Seekers have decided to travel south in an attempt to acquire laborers at the expense of Asylim. Asylim has continued to send assassins to further hostilities with Southroad Fair, hoping to subjugate the community. This preliminary southern trip is also to be used to gather information concerning the structure and workings of Asylim and any possible dissension between Magisters.
Last edited: