Creator of The Untamed Wilds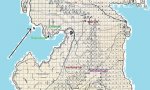 ​
GM:
The Southroad Seekers gather their necessary supplies and their three pack animals as they bit farewell once again to Southroad Fair. Being 40 days into the hot dry season called Doldrum with 20 more to go, they also pack extra water. It should take approximately 12 days to reach Boga City, following the road. The same trip would take a caravan 24 days.

In less than an hour, the party overtakes the Ansylin Silk Caravan, which is also heading to Boga City. The guards, actually, greet everyone in a friendly manner. The teamsters only glance in their direction, like a broken downtrodden people that they are.
As the Seekers are alongside the Captain, Sheldon cannot help but to poke verbally at him.
"
Captain, we are the Southroad Seekers. When you eventually return to Asylim you can report that we were last seen heading north out of Southroad Fair
."
OOC:
As there is, at least, 12 days' travel by road. State any adjunct desires, future intentions, or immediate actions.

Goals:
Recruit a blacksmith to return to Southroad Fair.

Determine the political stance of Boga City to foreign relations.

Learn the infrastructure of Boga City.

Determine the regard and potential of the citizenry toward manipulating Way.
| | |
| --- | --- |
| OOC: | This is the third scenario in the Caravan Campaign. |
TUW: The Caravan Campaign Character Records
Last edited: