Creator of The Untamed Wilds
Astarte: 51(perception) + 44(hearing) + 50(d100) = 145
Plumeir: 61(observation + 51(smell) + 58 = 170
Taylar: 46(perception) + 37(hearing) + 65 = 148
Not only do the rains of the Drenching Season make travel unpleasant, they make tracking impossible. Trusting to instinct and logic, the Investigators continue following the game trail along the river, upstream. With the deduced skill of the kidnappers, it stands to reason that they deliberately chose to operate during the Drenching Season, just because of the impediment to being followed. The next two days of travel are a drudgery, but the rain lets up on the third day, and the Daylight even warms the air a bit.
On that third day of walking, the game trail takes the party out of sight of the river. The path did not change direction. It has been relatively straight. The river must have meandered farther to the West. About midday, a discovered, divergent path leads westward and probably back toward the water's edge. To be thorough, the party quickly checks the other path, suspecting that if it leads to nothing important, they can quickly return to the path they were already following.
The particularly large bend in the river flows around a similar yet larger rise of land that harbors an even larger cherry orchard, cherries being a common fruit found in the region. As the party begins to move from the conifer forest onto the rise that holds the orchard, Plumeir makes a quick clicking noise to get the attention of the other two. He indicates that he can smell a wet animal. Spreading out, a bit, for caution, Astarte and Taylar both hear unidentifiable, frolicking noises of youngling animals.
Still in sight of one another, the three investigators ease forward, careful not to make noise, but wanting to know the source of the sounds. Two bear cubs are wrestling within the grove of smaller trees. While it is a pleasant sight to see, the fact remains that even though Plumeir has enhanced his own sense of smell and the bears are upwind, the mother of those two cubs is likely close at hand and may still be able to smell the party, especially if the breeze shifts.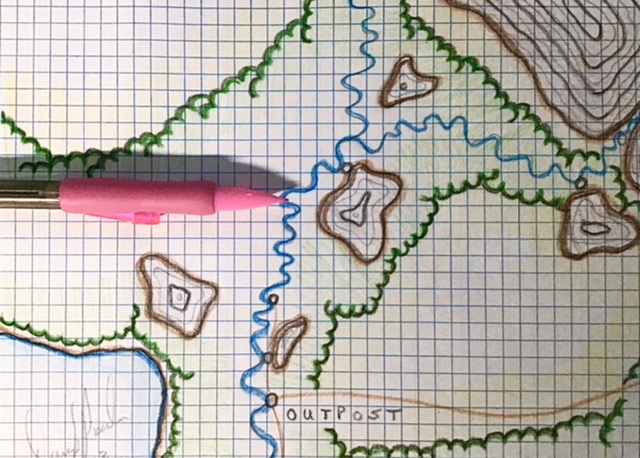 Taylar
: full wellness
Astarte
: full wellness
Plumeir
: full wellness
| | |
| --- | --- |
| OOC: | Each character receives 5 DP. State nominal actions and provide a random roll. |