The left tunnel:
This narrow passage is about ten feet high in most places, with rough, irregular walls. Protruding spurs on the walls are coated in dried blood.
Eventually this natural passage widens out;
The star-shaped cavern ahead has many clefts in its walls. Only two, across the cavern, seem large enough to traverse. Three zombies lurch about the area. One is costumed like a bear, another is dressed as a lady in a frilly dress and thick makeup, and the last is costumed as a jester with jingling bells on its collar and sleeves.
All three start to move, the bear holding his arms out as he moves back and forth. The jester squats on his heels and starts to hop, the bells jingling lightly as he moves. And the ballerina tries to pirouette, but her lack of muscles and coordination, has her stopping in half circles as she slowly turns.
[sblock=Group Status]
Barakas
AC:18, HP: 11/11, HD: 1/1(1d8), 1/1(1d6), WotS: 1/1, Spells: 3/0/0
Cyan
AC:16, HP: 18/18, HD: 1/1(1d8+1), 1/1(1d10+1), SW: 1/1, BW: 1/1
Niklos
AC:14 HP: 17/17, HD: 2/2(1d8+2), Channel Divinity: 1/1, Spells: 3/0/0
Talin
AC:16, HP: 15/15, HD 1/1(1d8+2), 1/1(1d6+2), Evil Eye: 1/1, Spells: 2/0/0
Terry
AC:16, HP: 12/17, HD 2/2(1d8+2), Channel Divinity: 1/1, Spells: 3/0/0
Zombies:
AC: 8
1) 22/22 HP, Jester
2) 22/22 HP, Bear
3) 22/22 HP, Ballerina[/sblock]
[sblock=MAP]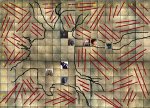 [/sblock]