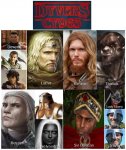 Presenting...
TELLERIAN HAWKE'S
GREYHAWK: THE GOLDEN ERA CAMPAIGN: CY 963
THE HEROES OF DYVERS CHAPTER SIX
​
The party has arrived in the city of Hochoch, having made their way to the Tower of Lady Abigail (Collin's mother); introductions are in the process of being made.
Current Time:
Patchwall 23, CY 963
7:20 PM
The party attacked the Giant Steading at 9:00 AM during the heavy rain storm, interrupting a special "Dignitaries Breakfast" that was being thrown in honor of Prince Delliak and the three Stone Giant Elders. The battle was over in a matter of minutes, and the party escaped the Steading with the aid of a juvenile Gold Dragon named Collin. After a 9-hour flight in a magical sled pulled by Collin, the party arrived in the city of Hochoch. After waiting 20 minutes to get into the city, and a 45-minute walk to the tower, the sun has just begun to set.
...Seated behind the desk is the most comely woman anyone has ever seen; even the Elves of the party cannot remember seeing another Elf maiden of such surpassing beauty. She smiles upon the party's entrance, and rises to greet them.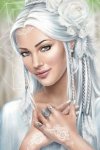 ​
She is a Gray Elf, standing 6'7" tall, with flawless, fair skin, silver hair, and bewitching, violet-amber eyes. She is thin, and lithe, statuesque in form, having wide hips and a bountiful chest, though her clothing is modest, and not very revealing. Even the gorgeous Nelvandra pales in comparison. She looks quite young, perhaps akin to a Human female in her mid-20's, but everyone in the party is far too wise to proceed upon such a foolish assumption; to be who she is, to hold the station and wealth that she does, she must be ancient in age.
She introduces herself in a polite, cordial manner:
"Greetings, I am Abigallendoraleppendroxx, but you can call me Lady Abigail; I am a member of the Hochoch Merchant Guild, and serve as a council member on the Lord Mayor's advisory cabinet. I am also an emeritus member of the Hochoch Mage Guild, the current Guildmaster, Miskatuuk, having once been my greatest student. My son, Collin, almost never brings me any company, so I can surmise that this visit must be of great import and significance. Whom might all of you be?"
EVERYONE: What do you do?
Last edited: