Well, that was fun
Staff member
Cover Art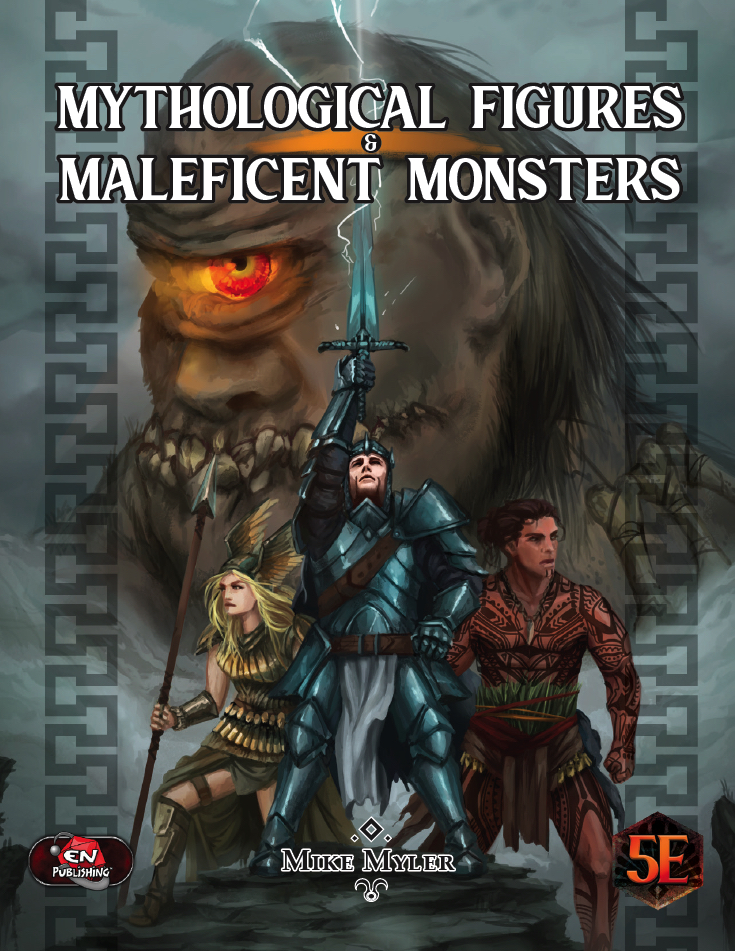 Mythological Figures
was a weekly column on EN World by
Mike Myler
, originally inspired by
Deities & Demigods
. It included both historical and fictional figures built as NPCs using class levels and standard ability scores, and mythical monsters designed with statblocks that adhere to the stories told about them in our world. The first entry was
Achilles
in March 2018, and the last was
Alexander the Great
in April 2022.
Hardcover​
This column is partially collected in a full-colour hardcover compilation called
Mythological Figures & Maleficent Monsters
available on
ENPublishingRPG.com
or
DriveThruRPG
.
​
Achilles. Lancelot. Robin Hood. Thor. Heroes, all.​
​
The world is full of myths and legends which inspired those in our modern fiction and games. Iconic warriors and wizards, vampires and things from the deep, these legends are universally known.​
​
Mythological Figures & Maleficent Monsters delves into these paragons of literature, fable, and folklore. From Ancient Greece to the Outer Realms, deepest Transylvania to the High Seas, you'll meet champions and thieves, pirates and knights, demigods and fey queens, ancient evils and urban legends. Archetypal heroes meet exemplars of villainy like Blackbeard, Rasputin, Dracula, and Baba Yaga.​
​
From Mike Myler's popular column, this epic compilation of over 100 legendary heroes, villains, and monsters brings these characters to life for the 5th Edition of the world's oldest roleplaying game.​
The hardcover includes a foreword by James M. Ward, author of AD&D's
Deities & Demigods
.
Methodology​
Challenge ratings are calculated using both the DMG guidelines, and the
Blog of Holding's
rubric, with a little manual adjustment. The mythological figures strictly use player character build rules. Most classes used are from the D&D official rulebooks, but occasionally another class might be requisitioned when needed: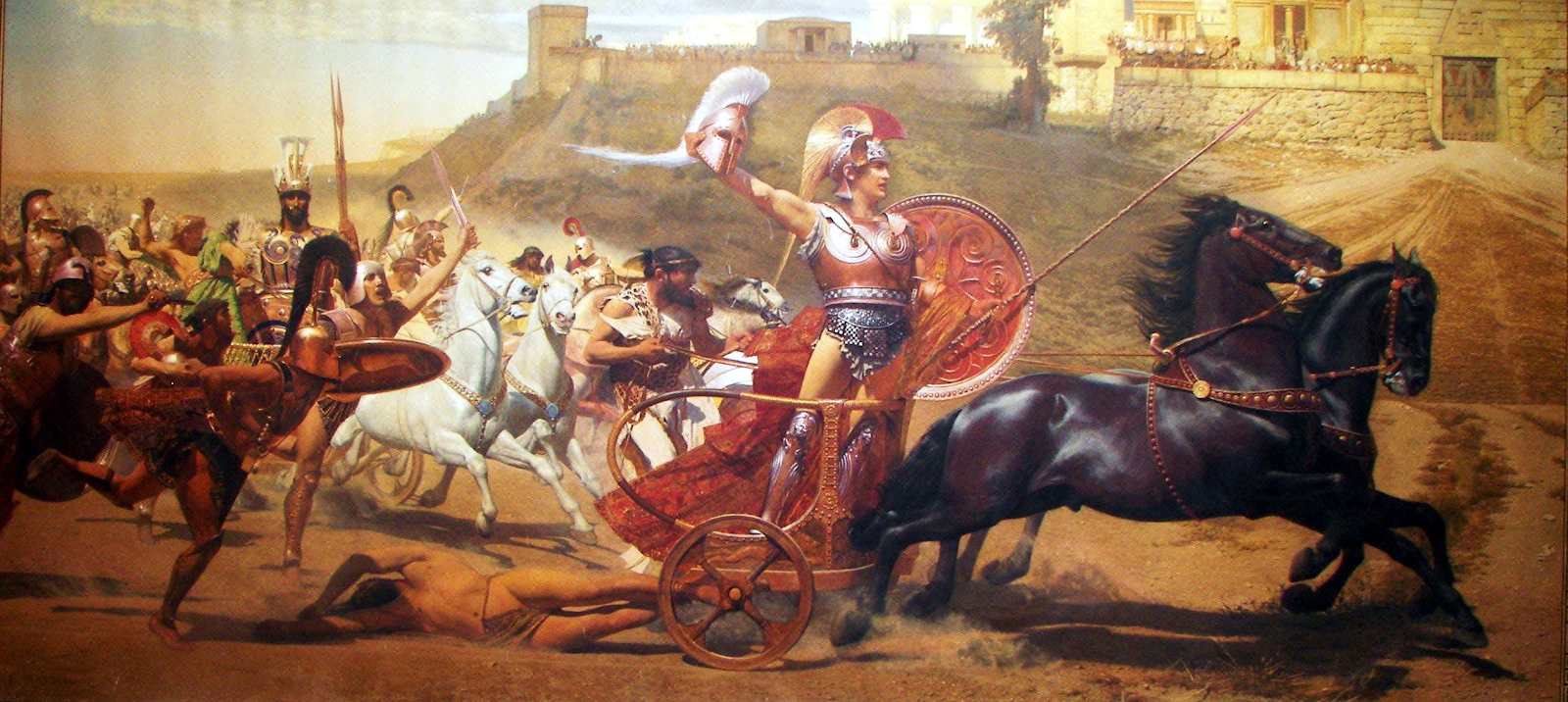 Mythological Figures​
Name
Classes

Challenge​

Notes
Abraham Van Helsing
rogue 2/artificer 2/ranger 1

3​

Dutch
Achilles
fighter (champion) 18

12​

Greek
Aladdin
rogue (thief) 8

8​

Middle East
Alan-a-Dale
bard (lore) 8

5​

British
Alexander the Great
fighter (banneret) 20

11​

Greek
Allan Quatermain
fighter (archer) 12/ranger 1

9​

British
Anne Bonny
rogue (thief) 4/fighter (archer) 5

6​

Irish
Aphra Behn
rogue (mastermind) 5/bard (lore) 3

5​

British
Arthur, King
fighter (warmaster) 4/paladin (oath of royalty) 15

12​

British
Atalanta
ranger (hunter) 8

5​

Greek
Bass Reeves
fighter (sharpshooter) 14/ranger 1

11​

American
Beowulf
barbarian (berserker) 20

17​

British
Billy the Kid
gunfighter (drifter) 8

6​

American
Blackbeard
rogue (thief) 7/fighter (warmaster) 7

8​

British
Blas de Lezo y Olavarrieta, Admiral
rogue (duelist) 5/fighter (brutal) 11

11​

Spanish
Boudica, Queen
bard 5 (battle)/fighter (skirmisher) 6

6​

British
Calico Jack Rackham
rogue (mastermind) 12

7​

British
Captain Ahab
ranger 1/rogue (swashbuckler) 5/fighter (brutal) 7

7​

American
Cathay Williams
rogue (genius) 5/fighter (champion) 3

3​

American
Charles Vane
rogue (mastermind) 5/fighter (brute) 7

8​

British
Ching Shih, Pirate Queen
bard (battle) 5/rogue (genius) 7/fighter (warmaster) 8

11​

Chinese
Cleopatra
rogue (genius) 10

4​

Egyptian
Comte de Saint Germain
bard (eloquence) 6/artificer (alchemist) 10

9​

European
Conan the Barbarian
barbarian 1/ranger 1/rogue (thief) 3/fighter 11 (champion)

9​

American
Confucius
rogue (genius) 6/cleric (knowledge) 4

5​

Chinese
Cú Chulainn
barbarian (berserker) 9/fighter (brute) 11

14​

Irish
Daedalus
rogue (genius) 9

3​

Greek
David
fighter (archer) 8

4​

Middle East
Dido
rogue (mastermind) 6

1​

Phoenician
Don Quixote
fighter (cavalier) 4

2​

Spanish
Dr. Moreau
artificer (alchemist) 12

7​

British
Drona
bard (blade) 5/fighter (master of battle) 11

9​

Indian
Elizabeth I, Queen
rogue (mastermind) 5/bard (college of lore) 8

6​

British
Elizabeth Bathory
rogue (genius) 5/bard (whispering) 5

7​

Hungarian
Enkidu
barbarian (primal) 4 / fighter (champion) 13

13​

Mesopotamia
Eric Bloodaxe
fighter (brute) 12/barbarian (juggernaut) 4/rogue 2

16​

Norwegian
Fairest Queen
bard (glamour) 14

8​

Europe
Fionn mac Cumhail
ranger (monster slayer) 20

15​

Ireland
Florence Nightingale
rogue (scout) 5

1​

British
Francis Drake
rogue (swashbuckler) 6/fighter (scout) 6

7​

British
Friar Tuck
rogue (thief) 5/ fighter (brute) 4

5​

British
George, Saint
fighter (cavalier) 6/cleric (protection) 8/paladin 2

10​

British
George Washington, General
fighter (warmaster) 16

8​

American
Ghengis Khan
ranger (animal master) 3/fighter (warmaster) 12/rogue (genius) 5

10​

Asian
Gilgamesh
ranger (hunter) 8/monk (open hand) 8/cleric (nature) 4

12​

Mesopotamian
Grace O'Malley
fighter (brutal) 11/rogue (thief) 5

10​

Irish
Guinevere
bard (glamour) 10

5​

British
Harald Hardrada
rogue 2/barbarian (overwhelming) 4/fighter (master of battle) 12

12​

Norwegian
Harry Houdini
fatebender (mascot) 6/rogue (thief) 6

7​

American
Hayreddin Barbarossa
fighter (warmaster) 11/bard (valorous) 5/ranger (hunter) 4

11​

Middle East
Hel
cleric (mind) 20

19​

Norse
Hercules
barbarian (holy) 8/fighter (champion) 11

17​

Greek
Hippolyta
ranger (hunter) 4/fighter (champion) 15

9​

Greek
Hua Mulan
monk (kensei) 4/fighter (warmaster) 12

8​

Chinese
Huon of Bordeaux
fighter 2/paladin (oath of the crown) 11

13​

French
Imhotep
cleric (knowledge) 8

6​

Egyptian
Irene Adler
rogue (inquisitive) 9/bard 4 (college of lore)

4​

British
Jan "One-Eyed" Žižka
marshal (swift strategist) 11

—​

Czech
Jason
rogue (swashbuckler) 7/fighter (scout) 11

11​

Greek
Joan of Arc
bard (valorous) 5/fighter (master of battle) 8/paladin 2

12​

French
John Henry
fighter (brutal) 20

13​

American
John "Jack" Broughton
fighter (brutal) 7/monk (drunk) 3

6​

British
Julie d'Aubigny (aka La Maupin)
rogue (duelist) 9/fighter (master of battle) 7

10​

French
Khutulun
ranger (animal master) 4/fighter (inspirational) 8/rogue 2

8​

Mongolian
King Shaka
monk (kensei) 3/fighter (warmaster) 15

9​

Zulu
Lancelot, Sir
fighter (champion) 7/paladin (oath of devotion) 6

12​

British
Leonidas
fighter (battlemaster) 20

13​

Greek
Little John
fighter (scout) 11

7​

British
Loki
rogue (genius) 17/bard 1/druid (lunar) 8

16​

Norse
Maid Marian
ranger 1/rogue (swashbuckler) 11

6​

British
Mary Fields ("Stagecoach Mary")
fighter (scout) 6

4​

American
Mary Read
rogue (genius) 6/fighter (champion) 5

6​

British
Melankomas
monk (merciful) 8/fighter (master of battle) 6

14​

Greek
Merlin Ambrosius
wizard (illusionist) 17/druid (herdmaster) 8

20​

British
Miyamoto Musashi
fighter (samurai) 18

10​

Japanese
Moctezuma II
fighter (banneret) 12

7​

Aztec
Mordred
fighter (banneret) 18

12​

British
Morgan le Fay
sorcerer (holy blood) 16

16​

British
Muso Gonnosuke
fighter (samurai) 11

6​

Japanese
Nemo, Captain
artificer (gunsmith) 9

9​

French
Nikola Tesla
tinkerer (mechanic) 9

5​

American
Nymue, Lady of the Lake
wizard (inventor) 20

13​

British
Paul Bunyan
monster tamer (animalist) 11/ranger 1/fighter 2

11​

American
Penthesilea, Queen
ranger (hunter) 4/fighter (brutal) 14

12​

Greek
Perseus
rogue (thief) 7/fighter (champion) 5

10​

Greek
Peter Jackson
fighter 6 (battlemaster)/monk (open hand) 4

5​

Australian
Piri Reis
fighter (banneret) 17

9​

Turkish
Prospero
wizard (enchantment) 11

8​

British
Rasputin
rogue 1/barbarian 1/fighter (brutal) 10

6​

Russian
Robin Hood
rogue (thief) 5/fighter (archer) 7

8​

British
Sadie Farrell
rogue (thief) 3/monk (open hand) 3/fighter (battlemaster) 3

5​

American
Sage Douban
artificer (alchemist) 5

2​

Middle East
Saladin
rogue (genius) 6/fighter (warmaster) 11

10​

Middle East
Seh-Dong-Hong-Beh
fighter (battle master) 6/monk (kensei) 8

11​

Dahomean/Benin
Semiramis
rogue (genius) 10/bard (loquacious) 5

7​

Assyria
Sherlock Holmes
savant (coordinator) 13

9 | 7​

British
Sheriff of Nottingham
rogue (mastermind) 6/ranger (gloom stalker) 6

5​

British
Sinbad
rogue 2/ranger 1/fighter (archer) 7

5​

Middle East
Sir Guy of Gisborne
ranger (hunter) 3/fighter (brute) 8

7​

British
Snow White
sorcerer (divine soul) 8/bard 1

5​

Europe
Sun Wukong
rogue (thief) 12/monk (open hand) 8

14​

Chinese
Talos
fighter (archer) 6

4​

Greek
Tamar, Queen
rogue (genius) 6/fighter (warmaster) 8

9​

Georgian
Tarzan
barbarian (animalist) 9

5​

American
Thor Odinson
fighter (eldritch knight) 14/barbarian (lightning harbinger) 4/paladin 2

15​

Norse
Titania
bard (fey) 20

13​

British
Tomoe Gozen
fighter (samurai) 15

8​

Japanese
Ulysses/Odysseus
rogue (genius) 9/fighter (master of battle) 11

11​

Greek
Vlad the Impaler
occultist (vampire) 15

12​

Romanian
William the Conqueror
fighter (cavalier) 16

11​

French

(and British?)

Will Scarlet
fighter (battle master) 11

8​

British
Zhuang Zhou
geomancer (architect) 7

4​

Chinese
Epic Monsters​